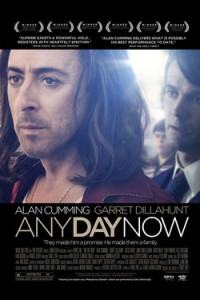 Rudy, a gay female impersonator (played by Alan Cumming) has his life turned 180 degrees unexpectedly when he ventures into his neighbor's abandoned apartment to turn down the endlessly playing (and loud) radio only to find her Down Syndrome-suffering child Marco sitting there left all alone.
This story, supposedly based on true events (though I couldn't find any hint of its origin after the fact), brings us back to the late 70's in a stark reminder of just how distanced the world was to anything involving gay life. Then, once alerted to anyone involved in it, just how alienating, disgusted and wrong-headed they could be in meting out disdain and more.
Rudy meets the man of his dreams, a local assistant district attorney (played by Garret Dillahunt) and before they know it they're both embroilded in a custody battle—together against the State—for the care of 14 year-old Marco.
The journey exposes them to one humiliation after another until, finally, there's resolution. Through it all Rudy and his lover stay true to their own feelings and their love for Marco above everything else.
The story is poignant and real but it's not without its faults. Cumming is exceptional as Rudy and is probably a favorite for an Oscar nod but that's the probably all most will hear about the film. The rest of it was, for me, a bit too subdued and unremarkable. It also felt like it was a bit too late. I suspect it would have had more resonance if it were shown in its era instead of 30+ years after the fact.
I also found the ending less than satisfying.