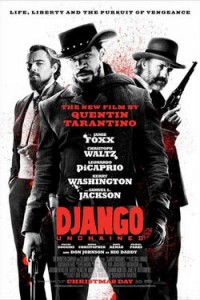 I'm not at all sure who Quentin Tarantino targets his movies to but, with growing regularity, I'm clearly not one of his targets. His latest effort, Django Unchained, had its release delayed in the aftermath of the Sandy Hook tragedy. After seeing it, I now understand why. I just wish it had been delayed to make it a better movie.
The film stars Jamie Foxx and Christoph Waltz as a freed slave (Django) and the German bounty hunter (Dr. King Schultz) who gives him his freedom in return for help identifying a wanted group of brothers.
The deeper story takes root when Django decides to go after his slave wife and gets help from King.
The movie clocks in at nearly 3 very long hours. This isn't a new problem for Tarantino films but sometimes his films just feel long. This one is long and feels doubly so.
I get the sense that Tarantino loves the process of making films and he's clearly a film nut. The problem is that his enthusiasm and depth result in efforts that leave the average viewer lost in the wake.
In this case we have a movie that's entirely disjointed. It is, at times, a wonder to watch while, at other times, is either entirely un-watchable or simply ridiculous. When it's good, it's fantastic. The dialog, visuals and ambiance give us moments of pure cinematic beauty if only fleetingly.
Waltz is, in my view, the star of the show. His work here once again underscores what an amazing talent he wields. We buy everything he's selling and we long for more.
Foxx is good but he's overshadowed by Waltz.
We also have a bevy of other key roles played by Leonardo DiCaprio, Samuel L. Jackson and Don Johnson in addition to many minor roles played by some big names. All do a fine job.
Like most Tarantino films this one is violent and graphic. However, this one goes beyond everything he's done previously. Whoever provided the fake blood must have made a fortune. Unfortunately, instead of his using it artistically (as he's done before) here it's just crazily gratuitous. If it's supposed to be a joke, the joke wears off almost immediately.
Then there's other Tarantino-trademark problems. There's one-off "jokes" that never repeat and, on their own, aren't interesting. Why, for example, is the text for Mississippi screen-high and scrolled while no other similar description is? What artsy element or inside joke am I missing here?
We get character quirks that go entirely unexplained, like a mystery woman who covers her face with a red bandana (except her eyes) in every scene. Why? We never find out.
There's characters who look exactly like other characters and, in one case, actor James Remar plays two entirely different, supposedly unrelated roles. However, both clearly look the same and it's distracting. Why? Again, we never find out.
The soundtrack was noteworthy and, here and there, compliments some wonderful shots but it's not enough to save the film.