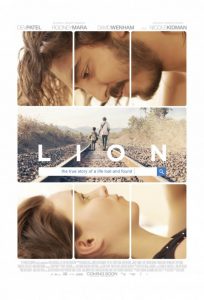 A young boy, lost among the streets of India, embarks on a mission to reunite with his family.
This is the amazing true story of Saroo Brierley (Dev Patel) and his absolute obsession of reconnecting with his missing past. The first half of the film focuses on the irresistible young boy born into abject poverty, but somehow filled with an endless, contagious optimism for life. It's a world that few viewers can even remotely comprehend, which makes it all the more poignant. The second half of the film picks up the story two decades later as the older, now well-off Saroo finds his existence haunted by the ghosts of his past. It leaves him unable to focus on anything but finding the lost family of his youth.
The two halves are very much two films in one. Their approach, look and feel have unique qualities that will put off some viewers, but they are essential to the plot. The power of the film is that it fills you with a sense of empathy that we afford to only our closest loved ones. We feel the pain. We want to reach out and join his all-encompassing search. His visions remind us immediately of the times that we lost our mother's hand for only a short moment, filling us with a panic that echoes through the decades. His loss cuts far deeper, and we are humbled.