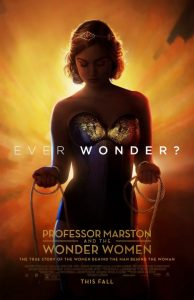 A university professor finds inspiration from his unconventional romantic relationship in Professor Marston and the Wonder Women.
This is the story of an enduring love that began in the 1920s, but of a type that remains hidden in the shadows of social acceptance even today. William "Bill" Moulton Marston (Luke Evans) and his erudite wife Elizabeth (Rebecca Hall) were living the good life of a university professor and his chief researcher. Little did they realize that the simple act of hiring bright, young student assistant Olive Byrne (Bella Heathcote) would irrevocably alter the course of their lives forever.
Their mutual attraction for one another quickly escalated beyond the boundaries of accepted behavior. As the world around them demanded compliance, their determination to stay together would risk the very life that they worked so hard to create. It would also spark the creation of one of America's most iconic superhero characters.
Writer/director Angela Robinson crafts one of the most engaging stories of recent memory and one of the year's best films. This is an experience in master storytelling. Every uttered comment echoes with heartfelt sincerity. Every glance seems to embody a thought backed up by a thousand unspoken words. The performances radiate off the screen with an authenticity that would fool even Wonder Woman's own Lasso of Truth. Hall's unforgettable turn as the indomitable force of Bill's feminist wife earns full consideration for a Best Actress nod. All of it is assisted by a flawless score by Tom Howe that carries us through the story with the ease that one feels while slipping into a perfectly warmed bath. The film's evocative eroticism is a magical mix of understatement and imagination that brings rise to… let's go with blood pressure.
The only possible issue that I can find is that, while the film proudly proclaims to be a "true story," the proof behind much of its narrative seems highly speculative at best. As the sole writer, Robinson draws parallels between the lives of those portrayed and the traits of the character that they created without much to go on. Is it true? Perhaps, but most likely not so much. What she does deliver is unquestionably the most surprising film of 2017.