Late last year I attended a charity event where you bid on a multitude of various offerings generally provided by area businesses. These included things like gift certificates for dinners, free car washes, tickets to sporting events, lawn services, etc.
The amounts raised for each item exceed the value of the items themselves but that's the charity part at work and it was all great fun.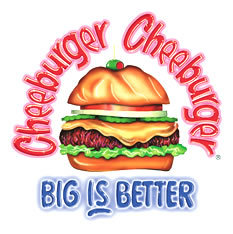 Much to my surprise we won a number of items and among them were two $25 gift certificates for a local burger franchise called Cheeburger Cheeburger. This eatery's appeal is that it claims to have amazing burgers served up in a classic 50's-style atmosphere.
My first thought was that $50 worth of cheeseburgers was going to be a bit crazy but I guess it's better than having them not even cover the cost of one.
So a matter of weeks went by and I finally went to use on the certificates. I drove to the Cherry Hill, New Jersey franchise (one of two listed as where the certificates were accepted) and upon arriving found that they'd vanished. Oddly I'd been there once and had, at best, a bad meal. The service was slow. The facility was overly loud and the food was mediocre but free food is free food right?
So I then looked at the other location and it turned out it was in Sicklerville, New Jersey which happens to be the town my office is in. I decided to take may boss to lunch there and he suggested we order online as he'd done that before. We put in our orders and much to my total amazement our order of two cheeseburgers and a single order of a fries and onion ring combo came to $26 and change! OUCH.
We showed up 20 minutes later and when the order was bagged up we presented the coupon. The cashier looked at it mystified and said, "I haven't seen one of these before". She then proceed to take it over to "her boss" who looked very much like the owner. He sat at a booth with a soda in front of him and some accounting documents and looked over the certificate. Several back-and-forth comments were made and finally he got up, looking entirely put out and came over to me to give me a verdict.
He said that the store is now under new ownership and that these certificates were given out by the previous owner. He also offered that "Yeah, he did lots of dumb things like that". So gift certificates for charity events are dumb…. Noted. He then told me there's no way he'd honor them. I was dumbstruck. We're talking $25 here for a major food business. Was he joking?
He then suggested I take them to the old owner who apparently still had another franchise in Brick, New Jersey. Brick is 90 minutes away and I have absolutely no reason to go there let alone for a mediocre cheeseburger.
We paid for the meal and I will say it was a decent burger. Certainly not noteworthy other than being better than the last one I had, but still we're talking a burger around $12, so I'd expect it to not only taste great but to also remodel and cleanse my colon on it's way out.
Later, when I got home, the event stuck in my mind. The next day I tried to reach the corporate office. My first concern was the website. Click the link above. It looks like something put together part-time with very little creativity. I then called the main number and when the phone picked up I heard what sounded like a typical old-fashioned answering machine. No one was available. Please leave a message. I did. Then days went by. Finally someone named Will or Bill called me back saying my request for help had been put on his desk. He listened to what I said and agreed that it showed very poor foresight on the part of the new owner. He promised he'd call him and see if he couldn't finagle him into honoring them by "some other means". I had no idea what he meant but assumed he was suggesting that corporate had some ability to impact their own franchise owners.
Then more days went by. He finally called back and got my voicemail. His message was down and to the point. The owner wouldn't budge and there was nothing he could do about it.
Okay, in the end it's for a charity event. It's a good cause but it's still $50 and a chance to make a difference in my already-compromised mindset on this company. Instead they want to make it worse. What owner, presented with this situation, wouldn't just think of this as a chance to make a lasting impression and just accept them? I don't get it. For one thing we're talking food here. There's absolutely no way the actual cost of that meal could have been anywhere near $26. $10 at the tops so we're talking $20 out of the guy's pocket to impact not only myself but my boss and whoever benefited on the second certificate. In my youth I worked at a fast food place and a diner and we through out piles of burgers at the end of the evening.
In the end they've permanently lost me as a customer and gained someone willing to tell everyone I know to avoid them like the plague—as I'm doing here. If you happen to be passing by do me a favor and stop into the Sicklerville franchise and then walk out loudly noting that this is the place that couldn't even see the wisdom in accepting a tiny gift certificate.