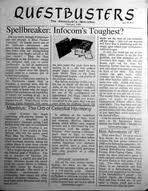 In a previous life — or so it seems now — I used to write various columns and articles for a number of publications. Most of them, at least back then, paid pretty well. Those days are long gone. However, there was one publication I wrote for that was done more out of a love for the industry, as it didn't pay a dime. The publication was officially called Questbusters – The Adventurers' Journal, though everyone just called it Questbusters.
This small industry newsletter was produced by a bit of an eccentric fellow by the name of Shay Addams. Shay was, at the time, an industry luminary in his own right. He was addicted to gaming (like many of us back in the earliest days) and had his hands in countless gaming pots. Shay wrote a number of strategy guides back when they were novel concepts, and not something produced simply as a by-product of producing a game. I'm not sure what ultimately became of Shay but one day he called to tell me Questbusters was going away as he'd lost interest in the hobby. He blamed this mostly on a new love — Poker. He told us all he was giving everything up to go become a professional poker player. Mind you this was in the mid-90's long before Texas Hold'em became a sensation. As far as I know none of us ever heard from Shay again (UPDATE: Years later we found Shay hosting a site about the Mayan calendar. Apparently he wrote a book in 2011 called The Mayan Calendar User Guide: How to Apply Mayan Astrology to Your Daily Life.)
Anyway, Questbusters included a stable of writers that represented the very best the adventure genre ever knew. Questbusters was sort of a rite of passage for such writers. This included my good friend (and one of the most prolific writers ever to visit this small blue planet of ours) Russ Ceccola. Also along for the ride, among many others, was a guy by the name of Clancy Shaffer.
Clancy was an amazing person. For years we both wrote for Questbusters and often would call one another to compare notes on various games, new technologies, politics, the world in general and so on. Clancy was a bundle of energy, and it was always clear to me that the guy was as bright as they came.
So one day we're chatting — two die-hard technology geeks at a time when it really meant being a geek — and I mentioned some new technology that was being discussed in the industry. I forget now what it was but the point of it was that it likely wouldn't be ready for several years. I asked Clancy if he was looking forward to the impact this would have and he said something like, "Frankly, I'm not sure I'll even be here to ever see it."
That certainly struck me as odd. My first thought was to assume he was joking but his tone was not his typical joking tone. I then wondered if, perhaps, this was his way of sharing with me that he had some terminal illness. I finally asked what that meant and he said, "Well, that's down the road a ways and I am 84 years old."
What?! I was flabbergasted. 84 years old? A gamer? A top industry writer in the field? A tech nut? 84? It didn't compute. Add to this that the guy, through all our time working together, sounded on the phone like he was 30. I couldn't believe it. Clancy explained to me that, in his view, computers came along at exactly the right time to save his life. He was totally serious about that. He told me that a number of his friends retired 20 years before, after a lifetime of hard work, and went off fishing only to drop dead six months later. His theory was that they essentially retired from life. They had no real reason for getting up each day — no fire.
He told me that computing held in it a bit of magic. It kept you always waiting impatiently for the next big game, for the next big thing. That it was a blast to write about it all, and to look forward to getting up to talk with countless others about it all over the world. Death? Forget that. He had people to talk to and games to finish.
Here we are in a new millennium and it's still nowhere near a common thing for someone in their 80's to be a gamer — let alone a totally-addicted one.
Every so often I wondered what ever became of Clancy and how long his theory might have held out. Today just happened to be one of those days when a stray neuron fires in your head, colliding with another, and then another, and you get a random memory of someone from long ago. You revel in the moment. So I typed his name into Google, wondering if he ever even encountered the word or the company, and this came up:
99 years old and he just passed away less than a year ago.
What a wonderful bio. I talked to Clancy hundreds of times but didn't know a fraction of those things. It was just like him to keep all of it stored away until such time as it became necessary to point out. Heck, he didn't think it at all necessary to mention he was in his 80s in a world dominated by people in their 20s. Why mention he was a Golden Gloves boxing champ or went to Penn and Harvard? To him it was much more interesting to talk about the latest adventure game.
Clancy, you were a class act and I learned so very much from you. I know I will definitely never forget you.
By the way, someone out there took the time to compile a good number of the old Questbusters and put them online. I must say it was pretty fun, and a bit moving actually, to see them again. I'd even forgotten quite a bit about it including one of the column names I had there. Good stuff. Good memories.