Ah, the wonders of aging.
I just recently finished up a battery of tests after a long period of prolonged illness that had me thinking I might have to re-think all those longer-term plans I've had. Turns out the cause was concerning but very recoverable (and I'm well on my way with it).
However, one of the things that came out of all those test was an awareness of some elements of my diet that need attention. Among other things my sugar was up a bit. Nothing terrible but more than it should be.
I've recently become the type to want to attack these things head-on and deal with them before they linger too long and get out of hand. Thus I've decided to reduce my sugar intact in addition to keeping up on the workout regimen.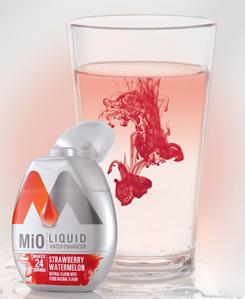 It was right at that moment of clarity that I caught a TV commercial for something called MiO. They bill it as a "liquid water enhancer" and that's pretty much what it is. You buy it in neat looking little squeeze bottles and squeeze the amount you desire into your water.
I've tried this before with other products and I've never been impressed. MiO has been a different story so far. I'm really liking it.
It comes, currently, in six different flavors—peach tea, sweet tea, mango peach, fruit punch, strawberry watermelon and berry pomegranate. I'm at a loss to explain why there's no grape but I'm crossing my fingers.
The biggest claims of the product is that it adds no calories, contains no sugar, no caffeine, no carbs and no artificial flavors. Given the goal I had in mind that fit the job description perfectly.
I initially picked up one of them while on a lunch break at work and decided on peach tea as my main addiction is iced tea. That means lots of sugar and caffeine to be traded off. You open the container and squeeze the liquid flavoring into your glass of water and that's it. The squeeze is actually well regulated and, so far, has released just the right amount I want for an 8-ounce glass of water. For bigger glasses I squeeze twice or more. Each container claims it provides, on average, 24 servings. For $3.99 (I paid about $3) that's a great deal and stands to save me quite a bit on my tea habit.
Just watching the flavoring drop into the water is a bit oddly mesmerizing. My first thought was that it'd result in an uneven flavoring but within seconds the flavoring dispersed evenly through the entire glass. The taste was great. It's not like drinking a Snapple but it's entirely pleasing and hasn't left me craving the real thing.
After just two or three glasses I ran out to the store and bought up several containers covering all the flavors. So far I've tried all but the mango peach and sweet tea flavors and I've liked them all except for the berry pomegranate. I'm drinking strawberry watermelon as I write this. Mmm.
I've yet to run empty on a single container and the original peach tea has been hit pretty hard so I'm apt to believe their estimate of 24 servings isn't too far off. I will say that I've experienced one problem that I hadn't anticipated and that's not wanting to toss away the water I may not finish. With a glass of water, if you don't finish it, you just toss it down the drain. Here I feel like I'm throwing away something of value (maybe I need to value regular water more) so I end up putting it in the refrigerator and drinking it later.
MiO uses two sweeteners to achieve the main objective and those are sucralose and one I had not heard of before called acesulfame potassium. Sucralose is known also as the driving force behind Splenda. It's been around since 1976 and hasn't been found to cause any health issues. Acesulfame potassium's been around even longer but just isn't as widely used.
So far I'd have to say I'm an early fan of the product and look forward to both helping out my dietary concerns—including shedding a few extra pounds that show up from all that tea—and a nice savings in the pocketbook. Not too shabby for such a small product.