With Christmas tidings in full swing, I've been surrounded by references of It's a Wonderful Life. I've already caught bits and pieces of it on several channels at different times. This year I started to wonder about Jimmy Stewart's place in Hollywood history. He's always been considered one of the very best actors the motion picture industry has ever produced. However, it occurred to me the other night that Stewart is starting to become a bit lost in history. I'm wondering if people not so long from now will think of him only as "that guy in 'It's a Wonderful Life'" and that's it. Will that movie create the same sort of singular presence as The Wizard of Oz has for Judy Garland?
While Garland was clearly talented, she obviously doesn't have the resume Stewart has. However, when I went over to IMDB to have a look at Stewart's complete career, I was a bit surprised to find it more sparse on major impact movies than I recalled previously.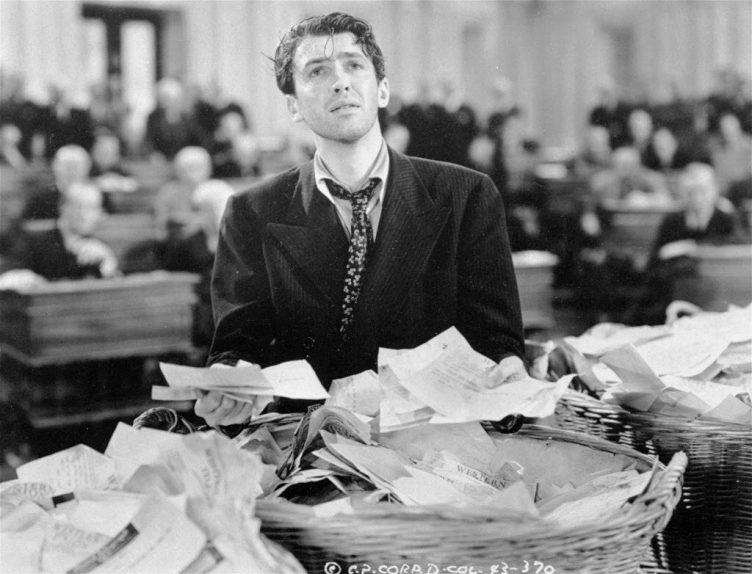 His first real hit is, in my view, his best movie, Mr. Smith Goes to Washington in 1939. It's one of my favorite films of all-time. Destry Rides Again is considered a good movie but I don't like westerns a lot and it takes one like Unforgiven to really win me over. Destry isn't that, so I don't see this as being good enough for consideration.
In 1940 he's in The Shop Around the Corner. This is another film that many people talk about, but I found it a bit slow. I never fail to turn to another channel when I trip over it.
In 1940 again he's in another absolute classic in The Philadelphia Story. Stewart, Katherine Hepburn and Cary Grant…. Wow, what's not to like?
It's a Wonderful Life shows up in 1946. It's a classic but it is starting to fall into "Oz" territory in another way: A lot of people are worn out by it, but again, it's a classic, period.
I happen to think 1948's Rope is an excellent movie, but I find a lot of people today are bored silly by it. It's mainly forgotten. Most people you mention it to have never even heard of it, and given that it's an Alfred Hitchcock movie, that's even more surprising, so it doesn't make the list.
Winchester '73 is in 1950 but it does nothing for me and, in fact, his role in it has always bugged me. 1950's Harvey clearly deserves to be on the list. That said, today I find nearly as many people as unaware of it as Rope.
In 1953 we get The Glenn Miller Story, but that's mainly a yawn today.
Then in 1954 comes the undisputed classic, Rear Window. Grace Kelly still lights up the screen every time it's on.
I'd like to argue that 1957's The Spirit of St. Louis, the story about Charles Lindbergh, his famous flight and plane, belongs on the list, but it's another movie that today many people just pass over. It comes off very dated and is overly glossy with respect to historical accuracy as well.
Vertigo is from 1958 but it's a movie I've never enjoyed, not even once. I watch it and find much of it to be flat, and I can't stand Kim Novak in it for some reason.
1959 brings us Anatomy of a Murder. It's a very good movie but go find people who know it. Best of luck. It's also quite dated today.
1962's The Man Who Shot Liberty Valance is considered a solid movie and co-stars John Wayne. However, this movie bugs me even more than Winchester '73. I just don't like it.
In 1965 Stewart stars in Flight of the Phoenix which I can never turn off when I find it. I think it's a wonderful movie, but I'm often the only one in the room who finds it that interesting. The recent remake ruined what little chance there was of large groups of people thinking good things about this one.
Going through this process, I feel better about Stewart's chances of being able to stake a permanent claim as being one of Hollywood's very best, but I was also a bit surprised to find that only five of his films (Smith, Philadelphia, Life, Harvey, Window) could be so easily defended as solid classics. On the plus side, I'm not sure what other stars you could point to that have as many top classics on their resumes. Cary Grant is up there. Henry Fonda and Humphrey Bogart seem like shoe-in's but it's not an easy list to put together.
My wife said she thought Stewart is actually underrated today and that she thinks most people simply wouldn't know his other films. When I asked for people who would rank above him she mentioned Harrison Ford and Tom Hanks. I like Ford, but he's no Jimmy Stewart. Star Wars and Indiana Jones were effects movies. They're not going to be remembered for their stellar acting. That isn't to say Ford isn't a good actor. He is, but he's not in the same league as Stewart. A couple other friends, when asked, said exactly what I was concerned about. They mentioned It's a Wonderful Life and then started to draw blanks.