Driving home early this morning from my weekly excursion to Penn Gamers and the radio is on 1210. It's a replay of the Michael Smerconish program. After a few minutes of talk (I find the guy one of the few conservatives on this station that I like) the show breaks for a commercial and the first commercial is Smerconish reminding everyone that Mother's Day is just around the corner.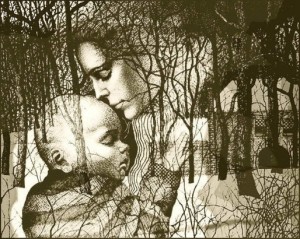 As he continued to speak his words suddenly became a dull thudding hammer reminding me, with each utterance, that I've already celebrated my last Mother's Day last year. I thought I'd been getting over the loss of Mom pretty well and had been surprised that so few things seemed to carry any real impact…. until this moment.
Suddenly the holiday seemed like a taunting, heartless curse designed only to remind many of us of our loss and that we probably didn't celebrate enough while they were with us.
Very surprising is all I can say…. I so didn't expect such a thought process and such an emotionally heavy impact.
Live and learn…. Mom, I miss you terribly. Sorry, but now I realize there just aren't enough flowers in the world to cover the gift you gave so freely to me.