What a prick this guy is. I listen to his show fairly often and he never ceases to disappoint me. Within minutes of listening he'll always say something that you can ask, "Hey, did you just say something entirely ironic?" Sometimes it's just hypocritical. Before you ask, yes, I listen to Sean Hannity. Why? Because unlike a lot of talking wind-bags on the Right I like to actually know what it is I'm talking about before being critical of it.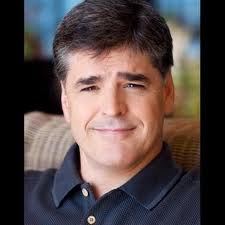 My father is a staunch Republican. I once asked him to tell me one thing George W. Bush has done right and his flat response was, "Everything". In a later discussion where I mentioned Michael Moore he said, "I hate him. Can't stand the guy." I asked if he'd seen Fahrenheit 9/11. Nope. I asked if he saw Bowling for Columbine. Nope. In fact, he's never seen anything Michael Moore has ever done. Forgive me but whenever I hear someone railing against say, Brokeback Mountain only to then admit that they haven't actually seen the movie and, by God, never will, I have no choice but to ignore anything such people have to say on the subject. Any other position they hold also becomes suspect as they're likely to have applied the same sort of scatter-shot thinking to those perspectives as well.
Anyway, so I listen to Sean Hannity. In fact, I also listen to Rush Limbaugh, Bill O'Reilly and other conservative pundits. I also listen to Al Fraken, Ed Schultz, Randi Rhodes and watch Keith Olbermann. This gives you a pretty rounded perspective on politics instead of just listening to one side—generally the side you already fully agree with anyway.
Okay, so now before I totally get off the point, let me bring this back to sleeze-bag Sean Hannity. This guy is so full of himself that it's disgusting. What sort of ego does it take to refer to "Hannitization" and running "Hannitization Tours"? You can hear him practically gushing every time someone calls in to say, "You're a great American, Sean." No, Sean, you're a waste of human tissue and most of the country knows it. You play every game possible with your listeners regardless of facts, regardless of morality, regardless of ethics. You've convinced a number of your challenged listeners that you have a clue. For that you should be ejected from this country for lying to so many people while doing so to put forth your own distorted, hateful agenda.
This is a man who starts off most of his recent shows by stating, "I'm here working hard so that on the day after the elections we don't have to hear the words, 'Speaker of the House Nancy Pelosi.'" He says that every day as if it's as offensive as me walking up to his wife and calling her the C-word. I don't know anything about his wife so I can't say if she is or isn't but I certainly can't imagine having to listen to this guy all the time. I wouldn't be at all surprised to find out that Mrs. Hannity doesn't mind that her husband isn't home more often. "Another speaking engagement in Peoria Sean? No problem. Take all the time you need dear. You're a great American."
Imagine this guy….. His worst nightmare is apparently having to refer to Nancy Pelosi as Speaker of the House. It's like one of those skits on Whose Line Is It Anyway? where the crowd comes up with a bogus, ridiculous emergency and the cast has to act as if it's a big deal. At least on that show you know it's all for laughs. With Sean it's deadly serious stuff. What on Earth has Nancy Pelosi done that's so vile as to have driven this guy to this viewpoint? Meanwhile he has absolutely no issues with asking Tom Delay to come visit his show all the time. Hannity had no problem referring to Tom Delay as Speaker of the House. Delay resigned his duty as Speaker and then resigned his seat in disgrace. We still haven't heard the end of it, yet Sean had no issues what-so-ever with this cretin. Give me a break.
One of his other angles is that we can't possibly put the Democrats back in control of the House. If that happens the Gates of Hell will open up and the House will be dominated by hearings on the actions of George W. Bush. Imagine that. How can we survive such atrocities? Congress has so many more important things to be doing for this nation, things like debate amendments about flag burning, getting a ban on gay marriage and other similarly impotent, er, important topics.
Then there's his current fake, and most heinous storyline. He keeps telling his listeners that there's no doubt about it — weapons of mass destruction have been found in Iraq. He wants apologies from everyone and then keeps bringing on struggling Senator Rick Santorum in a transparent campaign commercial to try to give the story some credibility. He claims he can't understand why the Right isn't getting behind this story. He understands why the so-called liberal media isn't behind it but why not the Administration and those on the Right? Uh Sean, it's because this story is nothing more than your own wet dream. Has it not dawned on you (and I'm sure it has which is why this guy is so dangerous and needs to be evicted) that when George W. Bush, the Defense Department and even Fox News aren't behind the story it's because there is no story? These weapons pre-date the last Gulf War. Also, the mustard and sarin gas that were in them has degraded. You'd probably be in more danger of needing a tetanus shot from a rust-filled cut than anything else. But there's no stopping this guy. He's sure if he says it enough it'll resonate with a large enough group and then, truth be damned, it'll be a story after all.
The sooner this guy's time comes the better.