The NRA's Wayne LaPierre finally delivered the organization's response to the tragedy in Newport and, to no one's surprise, their answer to the problem is more guns. Whoever didn't see that one coming must be living in a cave—without a gun.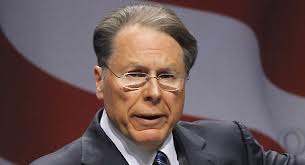 At a key moment, when the organization needed to show empathy, it instead doubled-down on the very policy everyone is contemplating. For the NRA, this is business as usual and it's as cold and calculating as the bean counters in a car company that determine it'll cost the company less money in pay-outs to victims and victims families than to fix the problem itself.
Instead, LaPierre, desperate to find any other target to get people focused on, latched onto the Fox News gambit of blaming violent video games for the problem. Yep, let's not ban guns but instead ban video games. That will solve the problem. Forget that this would be yet another example of blatant hypocrisy in the face of the stated goals of Republicanism. Guns are at risk so this is no time for logic.
Their actual solution was to advocate for the hiring of armed guards for every school. Surely this will have a positive impact right? Anyone paying attention will recall that Columbine High School had just that situation. The guard could only help fleeing students from a distance. And what parent among us wouldn't want our children growing up in an environment like a prison complete with guards packing heat?
But hey, this isn't about learning from history. It's about protecting gun sales by pushing what feels right which is always the more shiny bauble of this constituency.
And who would pay for all this? Why, the government, of course! Two hypocrisies in one statement. Bravo! No wonder this guy is their chief salesman. I have little doubt some local red townships will jump all over this idea.
Let's also ignore the reality we all know to be the case—that such a position would pay very little and would draw less-than-optimal resources. So let's go ahead and put poorly-trained, low-intelligence, poorly-paid armed "guards" into our schools with all our kids. What could possibly go wrong there…. unless they're a video game fan.