The Philadelphia Flyers have been having a tough time so far this season. They started out great and were picked by several key sources to win the Stanley Cup. Then a losing streak started… and continued…. and then the coach was fired. Now they've got a new coach and the losing is still continuing.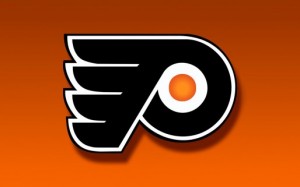 For me, the moment the Flyers "jumped the shark" is simple to identify. It was at the trade deadline last year when Flyers GM Paul Holmgren traded Scotty Upshall to the Phoenix Coyotes, plus a draft pick, for Dan Carcillo. We were all told Carcillo would be a fan favorite and would make us soon forget fan favorite Upshall.
Wrong and wrong again.
Upshall wasn't just a fan favorite. He was part of the chemistry that made this team work. The moment he left the life went out of the team and they never recovered. They just weren't the same team after that. They'd have their flashes but that's all they were.
Dan Carcillo's a decent enough player but he's no Upshall. In fact, what we've seen is Carcillo take one stupid penalty after another due to his inability to keep his emotions in check. That's the last thing a team like this needs—rife with players who take stupid penalties. It culminated earlier this season when Carcillo got involved in an altercation that put the Flyers short-handed for 9 straight minutes. In all my life I've never seen a single infraction totaling 9 minutes of power play time.
Meanwhile Upshall is thriving in Phoenix. He's played in 36 games, has 13 goals and 8 assists for 21 points and just 36 penalty minutes. Carcillo, on the other hand, has 3 goals and 5 assists for 8 points and a total of 100 penalty minutes. Upshall's numb
I also think it's time we started to think about life after Paul Holmgren. I've never been sold on him as a top-shelf General Manager but he started to change my thinking last season until the very move above. Since that point things are all going down hill. The team ran up against the salary cap last season causing them to have to make bad personnel moves and now this year they've taken chances they shouldn't have to take. They've rolled the dice on a very high-risk goalie in Ray Emery and Ray hasn't provided the goods.ers would put him second on the Flyers in goals and third in points on a team desperate for offense.
Then there's the almost hard to comprehend bad play of all-star defenseman Kimmo Timonen. Timonen's been on my radar from the very first game of the season. When he touches the puck bad things happen. He flubs passes, can't hit the net on shots, turns the puck over at will, is constantly caught on the wrong foot as opposing players fly by him. It's been tough to watch quite frankly.
The reality is that the current Flyers just don't have the right chemistry to gel properly and make a real go of it. Maybe the new coach will get through to them but I have my doubts. The good news is it can't get any worse.