Recently I've lamented about the strange state of missing pieces regarding Netflix and just last week mentioned that major competition was on the way via Redbox. Most recently I was alerted to a new option available to me on my Roku device. It seems that the Walmart-owned Vudu service is finally available on all Roku's in addition to a variety of other devices and any web browser.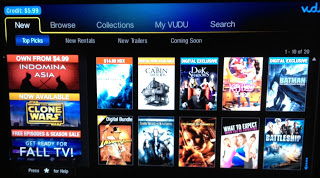 Vudu is another streaming service but it does bring along its own variations to the mix. First of all almost nothing on Vudu is "free". There's no service to pay for. It's all pay-as-you-go. Right now, anyone that signs up for the service gets a free credit that differs depending on the device you access it on. It's enough to give the service a try for at least a single viewing.
What you'll find available is the primary draw of the service. There seem to be more than 18,000 programs here with a lot of them being newer fare. You also have access to virtually every major cable movie-channel series like Boardwalk Empire, Dexter and the rest. In fact, you'll even find a smattering of films that just hit theaters.
The biggest complicating factor of Vudu is that it mixes movies and TV shows that can be rented with those that must be bought to watch. Rentals range from a couple bucks on up to about $6 while purchases generally run from $5 up to $25. TV series can run much higher but you can usually pay by episode (for a buck or two) or for an entire season. Shows that are only available for purchase (like newly released movies) often will become available for rent after a period of time.
Owning a movie or show doesn't mean you get any physical media. You own it digitally. In this case Vudu supports a new initiative called UltraViolet. UltraViolet is a service provided by 74 different companies allowing consumers to buy and store their movies and shows in the service securely (and with the approval of the content owners) and then replay them on any supported devices. You log into your account via whatever device you have that supports it and your content is there for you to watch. You can also take your existing DVD's and BluRay discs to any participating retailer (like Walmart) and have them added to your digital library for a small fee of $2. If you want to upgrade your standard definition movies to the highest quality on UltraViolet then the cost is $5. That all sounds great but note that as of this writing there are less than 100 movies available in UV format so conversion is still very unlikely.
Also I've always felt that, if you can't hold it in your hands, then the entire concept of "ownership" seems extremely dubious. I could spend thousands on films and control of that collection is entirely in the hands of the service providing it. Since that service is mainly the movie studios I expect the worst.
Anway, Vudu supports several playback quality levels depending on your Internet connection speeds. The highest level called HDX is a full 1080p resolution at 24 frames per second or, pretty much, BluRay quality. I watched the recently-released Tim Burton film, Dark Shadows, and the quality was the best I've ever seen from streaming though I was aware of some digital artifacts that I doubt are evident on a BluRay disc. You'll also get full Dolby Digital Plus audio support (which varies depending on your playback device and audio setup).
The interface is exceptional though not perfect. As I noted, the first complication is in filtering out content that can only be bought if you're only interested in renting. That can be done but you need to know where to look.
By default you'll start on the New tab and that includes a listing of Top Picks, New Rentals, New Trailers and Coming Soon options. You can also easily browse through the library (via the Browse tab) including searching by title or (thankfully) person. Thus, finding all the Alfred Hitchcock movies is a breeze for a change.
What really makes the service special is in the details. First, you can always watch the preview first. Second, each program includes a 2-minute trial where you get to see the first two minutes of the movie or show. Some have even more options. Dark Shadows included a 10-minute trial. You also get a graphical cast list that's linked to every movie or show they're related to in the library. You're also shown a list of similar films. What I like most is that every film includes reviews right from Rottentomatoes. You can see every tomato (good review) and every splat (bad review) including the comments and reviewers names. It's all very slick.
Playback is simple enough. Choose the show you want and the quality level (prices rise with the quality level)  and select Play. You can then watch the program, pause it or stop or and replay it at any time (for rentals you have 24 hours before it expires).
On the down side, Vudu doesn't offer any "free" streaming options. What I'd really like to see is a service that combines Vudu with something like Netflix. Amazon's Prime service comes close but not close enough.
Vudu, as it stands, is quite an intriguing alternative. The quality level is better than any other current option and the pricing is competitive (if not quite as low as you'd expect from Walmart). The service interface is incredibly easy to use especially for something so technical in nature and it's also fun to experience.