Anyone that knows me knows that I'm both a Netflix fan and a rather big critic of the service. The company seems to represent a classic example of one that has a great idea but then doesn't really know how the make the very most of it.
The argument against that position is that they've caught lightning in a bottle twice. First they decimated Blockbuster by offering their DVD rental product at prices that saved many a fortune over the competition and by almost always having the movies you were looking for. Then they re-invented themselves—not a moment too soon either—as a video streaming company. That move provided the final knock-out punch to Blockbuster and changed the video channel forever.
Taking on the cynical view, nothing about the streaming side was all that novel. Everyone talked about the day when this would be possible. Netflix was just the first viable player to make it a reality. But now what?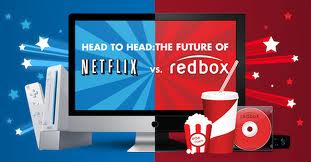 I've been wondering for ages where the progress is. Instead, the industry is fighting Netflix at every turn and their answer seems to be to sit back and rely on word of mouth and inertia to keep their forward momentum. Searching on Netflix is a joke. The library is pretty paltry in many areas. There's no live content to speak of. There's no options for paying for movies like you can on Amazon Prime.
Redbox seems to have found their own niche by doing what many thought would be unthinkable. They've kept physical media alive by spending countless dollars putting up and maintaining kiosks all over the country. They've thrived doing it. Now they've decided to take aim at Netflix and they've joined hands with Verizon as a partner.
The result is a product called Redbox Instant. It's currently being tested internally by a limited number of Verizon employees and is targeted to launch before the end of the year. How does it differ from Netflix? First, it's going to focus more heavily on movies. It also is reported to have a deep video-on-demand catalog that subscribers can rent movies from. There's also a tie-in to rentals from their kiosks. Subscribers will get a preset number of "free" rentals from a Redbox location.
Behind the scenes there's one huge difference. Instead of paying the content providers a flat rate fee (as Netflix and Amazon do today), Redbox will pay them per subscriber just as the cable companies do.
Will this be the product that dethrones Netflix?
I'm not so sure. The one thing I am sure of is that it should wake Netflix up enough to finally make another dramatic change to its offering. If Redbox is paying per subscriber I immediately wonder what the valuation prospect is for the subscriber. I'm guessing it's going to be prices well above what most of us would see as competitive compared to Netflix. The other big intangible is Verizon. Here's a company that, often, can't get out of its own way. Look at FiOS as an example. They stormed into the market with a far-superior product and then sat on it for years as it lost its edge. Today it's just another vanilla cable alternative. They could easily create far more headaches for Redbox than they solve.
The best part about all of this is that we're going to find out in a matter of weeks.