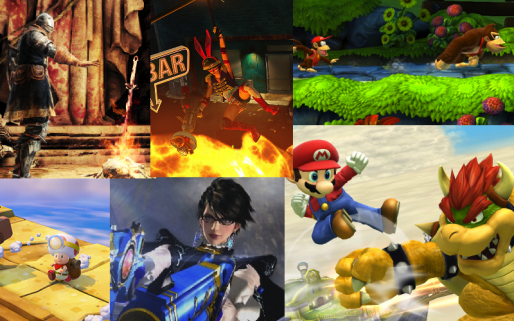 2014 was the awkward first year after next-gen consoles released, and the missteps were abundant. From Assassin's Creed: Unity to Halo: The Master Chief Collection, it seemed like almost every game released with errors. Topped off with a poor selection of games exclusive to the consoles, 2014 was a bit of a lackluster year for AAA games. However, this allowed for Nintendo and other developers to step in and really show how to make a game and make it memorable. There won't be a number of games with explosions and hyperrealistic graphics on this list. Instead, it's a list of excellent titles that think outside the box in terms of game play and focus on giving the player the most fun that they can have.
10. Captain Toad: Treasure Tracker
When you think of Nintendo these days, you think of happy, fun and beautiful little games, which is exactly what Captain Toad: Treasure Tracker is. You play as Captain Toad and his companion Toadette as you search for jewels and stars on isometric puzzle worlds. It's an expansion on the mini-game found in Super Mario 3D World, but having it as a stand-alone game is entirely worthwhile. I don't think that I've smiled more when playing any game this year than with Captain Toad: Treasure Tracker.
Captain Toad: Treasure Tracker is available on Wii U.
9. Divinity: Original Sin
Divinity: Original Sin is everything that I want from a hard-core RPG that Dragon Age: Inquisition doesn't satisfy. I love how ambiguous the information and systems of the game are, forcing me to learn how certain interactions work and different ways to customize my characters. The story may be a little rough around the edges, but it was the combat that kept me hooked. The turn-based strategy excels here, and the unique environments ensure that no two battles are the same.
Divinity: Original Sin is available on PC.
8. Super Smash Bros.
I expressed in my Super Smash Bros. review for the 3DS that I hoped that the Wii U version would be a more solid product, and my hopes were answered. Super Smash Bros. for the Wii U is a fantastic addition to the franchise because of its tightening of combat mechanics as well as its visually impressive graphics. While I may still dominate all my friends at it, there are always tons of laughs to be had when playing with others. It's just a shame that the online multiplayer and single-player offerings are both shoddy work.
Super Smash Bros. is available on 3DS and Wii U, but this entry in my list is only the Wii U version.
7. Donkey Kong Country: Tropical Freeze
When I think of the best platform games of this generation, Donkey Kong Country: Tropical Freeze is absolutely in that upper echelon. The way that it constantly throws crazy mechanics and brilliant level designs is unparalleled these days. The visuals, soundtrack and art style help Donkey Kong Country: Tropical Freeze become more than just a difficult platform game starring our favorite Kongs.
Donkey Kong Country: Tropical Freeze is available on Wii U.
6. Bayonetta 2
While I may not be as smitten as many others out there, Bayonetta 2 is a flat-out awesome action game. Platinum Games is known for their hyper-stylistic action combat, and Bayonetta 2 delivers here in spades. Titular character Bayonetta is flashy, sexy and incredibly violent, and it's nonstop insanity throughout the entire game. I've never seen an action game pumped with so much variety and unique enemy design. A lot of respect has to be given to Nintendo for supplying the developers with the cash so that the fans could get to play such a wonderful game.
Bayonetta 2 is available for Wii U.
5. Mario Kart 8
It's rare that a sequel in a long-running franchise manages to somehow provide the best, purest experience possible. Similar to Super Smash Bros. for the Wii U, Mario Kart 8 expands upon all past games in the series but expertly fine-tunes the mechanics that we've all grown to love. It just plays so damn well and looks so gorgeous. It's a bit ironic that, despite the Wii U having inferior hardware compared to the competition, all of Nintendo's games manage to captivate me more than anything. Oops, getting a bit off track. Mario Kart 8 is excellent. Go play it now if you're a dunce and somehow haven't yet.
Mario Kart 8 is available on Wii U.
4. Shovel Knight
Retro platform games are shoveled out so often that they largely become forgettable. I didn't forget about Shovel Knight. More than just pay homage to the old-school graphics, Shovel Knight brings back many of the ideas from games in the 8-bit era. More than just copy those ideas, it refines them into a complete game that is something entirely unique. Everything from the tight controls to the outstanding soundtrack makes Shovel Knight anything but forgettable.
Shovel Knight is available on PC, 3DS and Wii U.
3. Dark Souls II
Dark Souls II has the unfortunate task of somehow living up to its predecessor — my personal favorite game of all time. While not being able to complete that task, Dark Souls II is still an absolutely excellent game. The methodical combat is again the focal point for much of the tension and anxiety throughout the game's mysterious worlds. Dark Souls II demands your respect, and if you don't give it, you will pay the price of death over and over. No other game delivers the extreme feeling of satisfaction when you take down one of its many gargantuan bosses. Dark Souls II is an emotional roller coaster of stress, anxiety, excitement and joy. A game that is able to accomplish those experiences on a consistent basis is one to be applauded.
Dark Souls II is available on PC, Xbox 360 and PlayStation 3.
2. Sunset Overdrive
The Xbox One finally got its killer app, but no one seemed to notice. Sunset Overdrive definitely delivers on the "killer" part because the entirety of the game is about killing stuff with style. What really ties together all of the zany weapons and creative art style are the intuitive movement options at your hands. Getting from one point on to the map to another is always a blast as you bounce off objects, fly through the air and grind on rails. In this day and age, very few developers take risks on games, so to see Sunset Overdrive come out and offer such an exhilarating and unique experience is refreshing.
Sunset Overdrive is available on Xbox One.
1. Hearthstone: Heroes of Warcraft
The sheer number of hours and money that I've put into this "free-to-play" game are astonishing, especially considering that I've never been a big card game junkie. That is exactly what is special about what Blizzard has accomplished here: it condenses the complexity of card games into something that a layman can understand. As you play more and more, the hidden strategy and complexity start to become apparent, which also keeps seasoned players hooked. In Hearthstone: Heroes of Warcraft's first year alone, Blizzard released an adventure mode and an expansion offering over 120 cards, all with incredible production value. It's the perfect casual game to come to if you want something light after a long day while, at the same time, offering a captivating experience for hard-core players. I haven't stopped playing Hearthstone: Heroes of Warcraft since it released, and I don't plan on stopping anytime soon.
Hearthstone: Heroes of Warcraft is available on PC, Mac, iPad and Android.