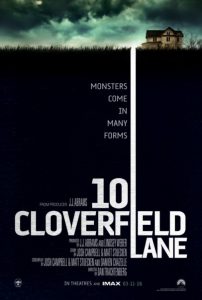 The best moviegoing experiences are those when you are completely surprised by a film and entertained for the entire running time. It's even better somehow if filmmakers manage to pull off this feat when you enter a theater imagining what might happen because of a trailer or marketing campaign. I must admit that I had some bias against 10 Cloverfield Lane after seeing the trailer and making an immediate mental connection to 2008's Cloverfield. Fortunately, the two films are nothing alike. From the first frame to the last one, you don't lose your interest even though there are a few occasions to breathe. 10 Cloverfield Lane is part thriller, part apocalyptic horror, part drama and the perfect destination address for a movie night off the grid.
First-time director Dan Trachtenberg and cowriters Josh Campbell & Matthew Stuecken and Damien Chazelle (writer/director of Whiplash) head off the beaten path with this story. Michelle (the extraordinary Mary Elizabeth Winstead) breaks up with her boyfriend and heads off in her car with no real destination in mind. With no warning, she's sideswiped and tumbling off the road. In the next breath, she wakes up in pain and chained to a pipe in a small room with concrete walls in a scene that immediately brings to mind the opening of Saw. Michelle soon discovers that she was saved by an imposing man named Howard (John Goodman before his recent weight loss) and that they share an underground bunker in Louisiana with a young man named Emmett (John Gallagher Jr.). Howard tells them that the outside world is under attack and that they need to stay in the bunker until it's safe to leave. When three people of very different personalities live in close quarters, it leads to a captivating drama with ever-increasing tension.
The cast is outstanding. I was worried that these actors on their own for the film's running time would be challenging to watch. I can't imagine a better trio of actors. I saw Winstead most recently in The Returned. As great as she was in that TV show, she commands the screen here and makes you hang on her every word and expression. I have no doubt that people will look up Winstead's other work after watching her hold her own against Goodman. I can't say enough good things about him. The list of his credits is as long as the variety of character types that he plays, and Howard is a side of Goodman that I don't recall. Despite saving Michelle, Howard doesn't seem to have all of his marbles. Even worse, he has a short fuse and barks out orders if people don't follow his rules. Goodman sells it, and I wouldn't want to be stuck with Howard for an indeterminate time. Gallagher has a good mixture of credits on Broadway (Spring Awakening and American Idiot), in films (Pieces of April and Short Term 12) and on TV (The Newsroom and Olive Kitteridge). He's the third wheel here, but he has his moments, too, as he tells more of Emmett's backstory. Some of the best scenes are those in which the cast shares a scene around the common table. The dynamics allow the actors to play off each other's strengths.
The bunker itself is a marvelous set with some inventive production design. The filmmakers must have carefully planned out its layout, and they use its every inch at some point during the film. The bunker itself has its own surprises that Michelle discovers later on. Howard prepared for the worst and installed everything from an air filtration system to a working jukebox and a library of DVDs and VHS tapes for use (as long as you remember to put them back in their sleeves). This claustrophobic set and the drama that takes place there would translate well to a stage play. Perhaps that's why my initial fear of sharing almost two hours with the cast was dissipated in a matter of minutes. The detail of the sets and the sound effects of what's going on outside heighten the anticipation of the discovery of what's on the other side of the door.
OK. Let's now talk about the elephant in the room. Is 10 Cloverfield Lane a sequel to Cloverfield? No. Are they related? Maybe. Honestly, it was a big disservice to this wonderful flick to give it the current title instead of sticking with the original The Cellar. The two films share producer extraordinaire J.J. Abrams, and that's about it. Cloverfield belongs to the found-footage genre, whereas 10 Cloverfield Lane makes its own footprint as a clever drama with an explosive third act. If I would compare it to any other work, I'd have to pick Stephen King's classic Misery because Howard shares a lot of peculiar personality quirks and hot buttons with captor and nurse Annie Wilkes of Misery. You don't know what to expect with him at any given moment.
I strongly recommend that you visit a theater (IMAX or otherwise) with an impressive sound system. The filmmakers use sound effects (Howard slamming the door to Michelle's room, outside noises, etc.) to maximize the drama and fear factor. Bear McCreary's strings-heavy score flows more with the action and tops his recent work for The Forest. There are plenty of surprises as the story unfolds, so avoid any discussions that are certain to ruin some of them. 10 Cloverfield Lane took me on a wild joyride, and I was enthralled the entire time and ready to head in any direction.