A free black man from New York is kidnapped and sold into slavery in 12 Years a Slave.
Solomon Northup (Chiwetel Ejiofor), an avid violinist, is living with his wife and young children in 1841 when he's offered a compelling musical opportunity in Washington, DC. Eager for any chance to better their position in life, Northup heads off with the seemingly reliable pair that offered him the gig. One night at a party, they drug the unsuspecting musician and deliver him to slave traders entirely disinterested in his protestations. They send Northup into the deep South, where his chances of ever seeing his family again seem quite hopeless. Refusing to accept his misfortune, Solomon works endlessly — but oh so carefully — to regain his freedom.
Throughout the ordeal, he's confronted with the true horrors of the life of a plantation slave. He's made acutely aware of the humiliation that must be endured at the hands of those who see blacks as nothing more than property.
Steve McQueen directs a profound and deeply introspective re-creation of Northup's fascinating autobiographical nightmare. Unlike several other more timid efforts of late, this film trusts the audience with the genuine harshness inherent in the deepest evils of our nation's darkest era. Not since 1997's Amistad or possibly even 1977's revered miniseries, Roots, has a film so effectively captured the emotions and aura of that unfathomable experience. This is a haunting, visceral tale that will shake you to your very core. Shame, angst and unrelenting disgust permeate the entire theater for each viewer in their own personal way.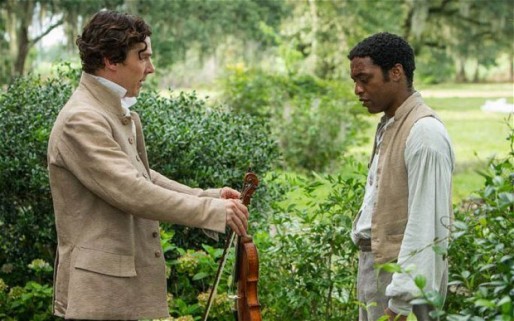 The intimacy is a tribute to every facet of the film. The look conveys a picture-perfect sense of the times, while the music moves us effortlessly along with the ebb and flow of the story. The acting throughout is exceptional. Ejiofor as Northup is a lock for a Best Actor nomination. The rest of the cast fares equally well and would require several pages of praise to cover them all. Paul Dano, Benedict Cumberbatch, Lupita Nyong'o, Michael Fassbender and Brad Pitt stand out from the crowd.
The only issues at all in the film are trivial. There's a general lack of the sense of passing time. We're never quite sure how many weeks, months or, perhaps, years have passed. Cumberbatch's plantation owner — Ford — could have also benefited from a bit more explanation.
Aside from those extremely minor distractions, this is a film that I fully expect will play a prominent role during the awards season — and deservedly so.