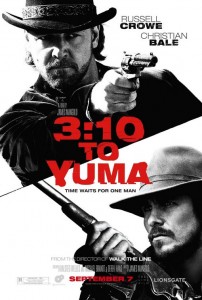 This weekend my son and I went to see 3:10 to Yuma. It stars Christian Bale and Russell Crowe in a classic western. It's a remake of a 1957 film of the same name starring Glenn Ford. This was my son's very first western so I was a bit apprehensive. Thankfully by the end it was his favorite movie (as is just about every movie he sees at this point in life).
Like a lot of people I had seen enough westerns to hold me for some time. That's why we took a bit to get out to see this one. In fact, the only reason we even saw this is because there was nothing else acceptable that he could see. This did have an "R" rating but it really only had it for the violence aspect which he saw as tame anyway.
I have yet to make up my mind on the abilities of Christian Bale. In one movie he seems to be great at the craft of acting and in the next he looks like he just moved out of commercials. This movie puts him squarely in the first category. Russell Crowe is strong as usual. Peter Fonda is also excellent in a supporting role.
The movie overall is nothing all that special. There isn't anything really all that unique about it and the story itself has a few rather large holes in it but that doesn't matter much. It's still a very enjoyable experience and well worth the money. It's never going to be viewed in the same class as Unforgiven but is certainly better than the typical western fare.
The main characters are decently covered here. It's the cursory characters that fail to impress. Crowe's gang of outlaws are clearly bad men but that's about all you'll get from them. A lot of people are churned through the plot and you just have to take them with a grain of salt and move on.
I think any new western is going to be measured against Unforgiven and that caused me to think of the other Clint Eastwood westerns that I need to expose my son to. 3:10 to Yuma is certainly a better than average movie but I have a hard time seeing how it got the perfect rating some reviewers are giving it.