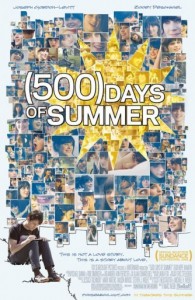 This past week found me catching the well-received 500 Days of Summer, starring Joseph Gordon-Levitt (of 3rd Rock from the Sun) and the quirky Zooey Deschanel.
From the moment the movie started, I had the feeling that it would be my kind of film. It had a narration that just hooked me from the first word. What's more is that this is one of those "real" films where the characters just seem so absolutely normal and out of everyday life. That's not to say that the whole film is that way. It isn't. In fact, there's quite a bit of strangeness, but it's also all perfectly welcome here.
Essentially, we get a chance to look into the relationship of the two main players from start to finish, and it's done in a mainly fresh way that reminded me a bit of Memento. The narrative doesn't run in reverse, but instead, we are bounced around from, say, Day 1 to Day 200 in an instant and then back to perhaps Day 42 soon thereafter. These approaches always make me wonder how the story would work (or not) if it were played sequentially through. It works here, so I'm fine with it.
The script is just fantastic. Everything about this relationship and the characters' lives rings true, and anyone with any decent dating experience will feel a connection to it. The acting is also first rate. I really can't think of anything in this movie that I can complain about.
If you don't like this movie, perhaps you should stick with action films.