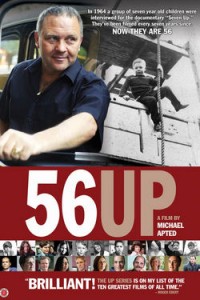 Aging is definitely not a spectator sport. You must realize at some point that you're as much of a participant as the subject. This peculiarity makes the popular Up series of movies an odd choice for entertainment. The familiar people in this set of documentaries are as much a mirror to our own lives as they are inside the goldfish bowl with moviegoers looking in. The participants of the Up series are certainly in the forefront of reality shows. You might even call them the original reality stars because the first few instances of this series predate Real World, Survivor, Big Brother and the countless other "reality," or unscripted, shows on television. Now in its eighth incarnation, 56 Up peeks in on all but one of the original children as they face the problems and blessings of growing older.
Director Michael Apted was a researcher and interviewer on the original Seven Up television program in 1964 with Paul Almond as the director, and he has gone on to guide the series and check in on its subjects every seven years since then. These movies originated as British television series to examine children from all walks of life over time, but at some point, they were condensed into film format and brought to theaters. Apted is almost like an additional character in the films because many of the people address him by name even though he's not on camera during the interviews. His pleasant narration has a calming effect as well as offers information that the interviewees might not want to talk about directly. I have only seen the previous two Up movies in addition to 56 Up, but because each film shows a variety of clips from previous films as well as an update on the "characters," I feel like I know these people well and both root for them as well as empathize with them.
The format of 56 Up is that Apted offers a series of clips to both introduce and summarize the experiences of the 13 people — Charles Furneaux dropped out after 21 Up — in the series before he spends 10 or 15 minutes per person on the changes in their lives since the last film. It's very interesting to see the rapid succession of clips over the lives of these folks because they all had noticeable physical changes (weight/hair gain/loss, etc.) as well as their relationships and employment. Andrew and John are both lawyers as they predicted when they were children. Nick always had a fascination for science and teaches now at the University of Wisconsin. He bemoans being more famous for the Up series than any scientific findings, but I would guess that any significant scientific work would get a boost from being that little boy who grew up on screen every seven years.
Unfortunately, the people in the film are getting to the age where physical problems start to outnumber the divorces and children. It's heartbreaking to listen to Jackie describe her rheumatoid arthritis. Peter dropped out of the series for a while when he was practically homeless and directionless as well, but he has made a complete turnaround as a local politician and member of the band Good Intentions, which he happily plugs in the film. Symon is the only non-white member of the group, and he went from a foster home as a child to sporting a beaming smile from ear to ear as he talks about his own family. Tony clearly has the most outgoing personality in the bunch, and he's saved for last to talk about his life as a cab driver and his other home in Spain. He also serves as the focus of the movie poster alongside the cute little scamp he was at seven. Even though Nick lives in America, he and Suzy are friends and are interviewed together for 56 Up during one of Nick's trips back to England. The group has assembled for earlier entries in the series, and this dynamic is certainly worth some screen time. Apted should consider a party for the 13 people — maybe 14 if they can reach out to Charles — and bring them and their respective families together for a group discussion in the eventual 63 Up before any of them get seriously ill or die.
I would be interested to have a video scrapbook of my life like that of the Up series. Seven years ago, I was just starting a new job after being out of work for three years and didn't write for magazines or Web sites anymore. My life is better now at 46, including this return to writing, and I hope to keep up this trend over the next seven years. Watching 56 Up or any of the Up series makes you immediately examine your own life as soon as the credits stop rolling, and that kind of effect can't be all that bad. The Up series is one of the grandest film experiments in the history of television and cinema. 56 Up has more depth and emotion than previous entries and is proof that such an effort serves as a document of both the individuals in the film and life in the world outside the frame.