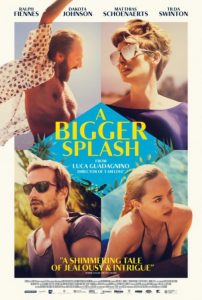 A recovering rock star and her attentive boyfriend find their solitary vacation interrupted when an old friend drops in unexpectedly in A Bigger Splash.
The rigors of the road come at a price even for our most popular music icons. Enter Marianne Lane (Tilda Swinton), an internationally famous rock star reclusively recovering from potentially career-ending throat surgery. She and her boyfriend Paul (Matthias Schoenaerts) are determined to make the most of their time alone on a secluded, naturally romantic Italian island. It's an atmosphere that allows them to speak volumes to one another without the need for the words that Marianne is unable to utter beyond a whisper. Each day is filled with intimate, simple, low-key, no-stress activities far from the frenetic energy of a stadium full of fans. It's a pitch-perfect prescription for their current condition.
Their restful serenity is broken when Marianne's old producer and one-time lover, Harry Hawkes (Ralph Fiennes), calls to say that he's just arrived… unannounced. Harry's personality is like a barrel of seltzer dropped into a wading pool. He's loud, chaotic and impossible to ignore. The island is suddenly far smaller than Marianne and Paul ever imagined.
This is long-form storytelling without a sense of time. Just like its title, the film continually hints at something deeper to be revealed while the minutes melt away like dew under a hot morning sun. Every character is woefully underdeveloped, leaving the audience to guess about far too many plot elements. Fiennes vamps, vogues and vacillates endlessly as the rudderless Harry. Paul is about as memorable as the rocks that surround the island's native swimming holes. Swinton has a few moments, but for all her acting chops, she is entirely miscast here. She's just not believable as a rock star. Every flashback scene depicting her working feels artificial, most notably when we hear her singing voice. We also get Dakota Johnson in a role that feels like a step backwards for her. It could have and should have been played by a character actor. She barely says a word until it's far too late to care.
If you can hang in until nearly the 100-minute mark, the crescendo finally gives way to a few curious scenes that bring some much-needed understanding and depth. The problem is that the journey's awkwardly melodramatic some of the time and painfully boring most of the time.  This splash is nothing more than a few errant ripples.