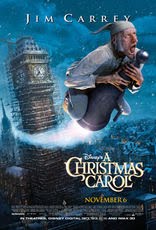 I saw Disney's A Christmas Carol this weekend and wondered if this was the earliest a Christmas movie has been out prior to Christmas.
The movie takes the traditional Charles Dickens story (more or less) and augments it with every technological advantage we have today. It's animated in much the same way 2004s The Polar Express was done. That is, it uses live actors wearing tracking mechanisms to carry out the movements of the characters and then the animators add the look to those basic skeletal actions. The effect was novel in 2004 but also was a bit rough. Now it's quite polished.
I saw the movie in 3D and I have to say that it's the best use of 3D I've seen. It doesn't include very many, if any, "in-your-face" 3D moments but instead the entire canvas benefits from the added depth. Falling snow was so realistic that I caught myself reaching up a couple of times in a vain attempt to whisk it out of my view.
The story itself holds fairly tightly to the original, though I must say that it's been so long since I've read the story itself that I'm no longer clear on what was in the book versus the various detours the subsequent films have taken. Regardless, this story stands on its own as a wonderful variation.
The use of animation brings with it other benefits that fully tap into the imagination that I believe Dickens would have loved. This Scrooge isn't limited to older technology and grounded human actors. He can do anything, dream anything and experience anything without the constraints of the past. We get several wondrous scenes that could only happen with this type of approach. It all just works.
The only detraction I could find with the technology is one that was commented on in 2004. Many felt that this approach resulted in very creepy eyes in the characters. This issue still hasn't been entirely solved but here it appears it got some attention and the result is a softer look. In fact, several scenes look exactly like video of real people until you see their eyes. The lack of "life" in the eyes of the characters also, for me, meant a lack of conveyed emotion. You just don't feel their angst the way you would with real actors in a movie—but it's close.
One of the negatives of this version of the story, I believe, is tied directly to the missing emotion here. The entire impact of Tiny Tim is very much minimized here. In the movies much effort is taken to get the audience to buy into the heartache that his family and those around him feel for his plight. Here he ends up playing almost a minor role.
The ghost of Jacob Marley drives how the benefits immediately. He's bound by chains and weights that look amazing in animation but would have looked fake and limited in regular film.
The Ghost of Christmas Past is a highlight of the technology. Everything about it is magical. I shall not soon forget this character. I'm smiling as I write this.
The Ghost of Christmas Present also benefits greatly from the form. He's a giant in every way. The only knock is that he laughs a bit too much for some unknown reason. I also found it interesting that he looked almost exactly like one of the earlier actors to play the role in film.
Lastly the Ghost of Christmas Future—the Grim Reaper—shines as well. Having no lines is tough for a human actor but a breeze for an animated one. He can look endlessly menacing in every instance.
The actors themselves are almost not worth mentioning and I don't mean that in any bad way. They all do a great job here and most of them play several roles. What I mean is that they're not all that evident to you and that's a good thing here. You can just be immersed without constantly thinking, "Who is that?"
I also would caution parents not to bring their youngest children. We had several in our showing and they were clearly scared by this version. It's certainly dark, scary and boasts a lot of mature concepts that will be lost on them.
All in all I would say that this is my favorite rendition of the story now. I'm sorry I won't be able to view it this Christmas Eve.