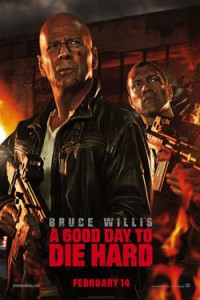 It's nice to see familiar characters return to the screen to do what they do best as long as they're not stunted. Bruce Willis has been in some notable films in 2012, including the disappointing Looper and the amazing Moonrise Kingdom, but it's a pleasure for him to return to the Die Hard series in A Good Day to Die Hard. This latest entry in the films that really made Willis a superstar delivers the goods with some jaw-dropping action sequences and car chases. This is not the best of the series, but it's worthy of the Die Hard moniker and perhaps takes the movies in another direction.
I love the tagline "Yippee Ki-Yay Mother Russia" that's attached to this film. It sums up the humor of the series and paraphrases one of my favorite movie lines as delivered in each Die Hard by New York City cop John McClane (Willis). Director John Moore and writer Skip Woods take McClane out of his element and off to Moscow where he reconnects with son John "Jack" McClane Jr. (Jai Courtney) and helps him out of a predicament or two. The trailer ruins one of the movie's better lines with its allusions to Jack's CIA mission in Russia, but I won't repeat it here in case you get to enjoy it for the first time in the film. Jack has to protect thief turned government witness Komarov (Sebastian Koch of Black Book and The Lives of Others) until he makes it to court. Bad guy Alik (Rasha Bukvic) sends his heavily armed men against the McClanes and Komarov, and Komarov's daughter Irina (Yuliya Snigir) figures into the plot, too. The plot isn't as fully realized as that of, say, Die Hard with a Vengeance; instead, it's driven by the action sequences and only has a couple of diversionary twists.
The film opens with one of the most outrageous car chases that I've ever seen, and it goes on for a long time. They certainly didn't skimp in the destruction of dozens of vehicles. That kind of over-the-top approach to every action scene keeps the film pumping. Bullets fly and glass breaks; Moore seems to linger for a few seconds with his characters on every set before he rips it apart with bombs and bullets. When the McClanes enter a room with chandeliers and stained glass windows and talk just long enough for you to notice the details, I knew that every bit of the glass would be shattered in a few minutes. Music by Marco Beltrami perfectly accompanies the shootouts and explosions. It's the kind of soundtrack that I'll actually buy because the music stands on its own as well as within the confines of the film. Make sure that you see A Good Day to Die Hard in a theater with a great sound system to enjoy the full experience.
I wish that there were more meat on the bones of this film and that it didn't rely entirely on a few major action scenes to tie together the narrative. Moscow has a lot of places other than nondescript buildings and the nearby Chernobyl site. In an attempt to include Jack in the film in a prominent role, the filmmakers forgot that John McClane is the draw for moviegoers. Willis has expressed a desire to continue this series, so perhaps the addition of Jack and the inclusion of daughter Lucy McClane (Mary Elizabeth Winstead of Smashed) in a few scenes in New York City hints at a future installment. The proper mix of action, investigation and challenges will win over me and other Die Hard fans. Until then, take a trip to Russia to see the smug, cocky McClanes show those Russian bad guys what Americans are all about.