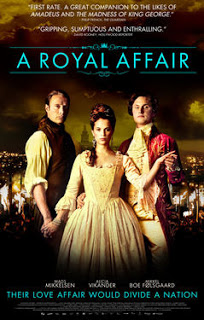 A young princess is married-off to a mentally disturbed young king and seeks solace in the arms of her physician in A Royal Affair.
I have to admit that I don't really know much of anything about the broader history of Denmark. In the United States that pretty much means I'm like nearly everyone else. A Royal Affair is a solid film that relates a small portion of that history. It covers a period of mainly six years starting in 1766 when the Enlightenment period is just evolving across all of Europe. This is the age of Voltaire.
A 15 year-old English princess (Caroline, played by Alicia Vikander) is set to be married to the young King of Denmark — Christian VII (Mikkel Boe Følsgaard). However, she has little idea that the King isn't playing with quite a full deck. She resigns herself to her fate and instead focuses on raising her children, trying to bring about reform where possible and, as referenced by the title, having an affair with the King's personal physician — Dr. Johann Struensee (Mads Mikkelsen who many will recognize as the bad guy in the Bond film Casino Royale).
The tale is an epic one, though it does take an act or two to gather enough steam to keep the viewer from dozing off. Once it does get going it never lets up, culminating in a powerful ending that had me nearly gasping for breath. What plays as a romance in the trailers is really a much deeper, much more lasting endeavor that's oh so bittersweet.
The cinematography is wonderful, perfectly presenting the era in just the right tones and that includes a useful (if forgettable) musical score. The acting is strong throughout with nearly every role leaving the viewer with a haunting element that seems duly appropriate for the material. One standout is Trine Dyrholm as the Queen Dowager Julianne Marie whose every moment on screen seems to burn with deep running emotions.
I can't say much about the accuracy of the film as very little seems to have been written about the period online. However, what is there is fairly represented here and it seems quite amazing that such a curious and engaging tail has gone largely untold.
One of the best things I can say about the movie is that the longer I dwell on it, the better it comes off.