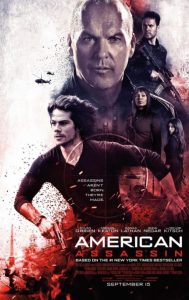 A number of memorable movie characters have been Bourne, uh, born from the pages of successful spy novels. The latest of such films introduces CIA agent Mitch Rapp, a character whom late author Vince Flynn created and Kyle Mills continued writing after Flynn's death. Sometimes, these series of books are turned into unsuccessful one-off movies, and you never encounter these characters again. In the case of Rapp, a solid movie with minor flaws should make way for more of his trips around the world, whether other Rapp novels receive adaptation or he undertakes new adventures. American Assassin feeds the hunger for a new cinematic spy hero and delivers all of the intrigue, action and twists that define the genre.
The filmmakers bring a lot of experience in action flicks and spy/crime dramas from both television and movies. Director Michael Cuesta worked on both Dexter and Homeland as well as feature film Kill the Messenger. The four writers contributed to projects like The Americans, The November Man, The Last Samurai and Jack Reacher: Never Go Back. The result is a story that flows smoothly as Rapp travels all over the place in his attempts to impress his CIA bosses as a rookie agent. Rapp (Dylan O'Brien of The Maze Runner and its sequels and the Teen Wolf series) loses someone whom he loves in a terrorist attack and turns his anger into results by infiltrating the killers' cell for revenge. Unbeknownst to him, the CIA has been watching closely, and higher-up Irene Kennedy (Sanaa Lathan) pulls him from the field and sends this promising but cocky prospect to ex-Navy SEAL Stan Hurley (Michael Keaton) for training. Soon, Rapp embarks on a mission to assist Hurley in taking down a mysterious figure (Taylor Kitsch) who wants to launch his own attacks on the world's powers.
The strong casting leaves no holes. O'Brien has grown up since his earlier acting days, and he displays the maturity, chops and believability for films like this one. Kitsch's character refers to Rapp as "the new me," and this description equally applies to O'Brien as a young actor on the rise. The dynamic Keaton chews up the dialogue and spits it out in a role that uses the best of his physicality and commanding presence. Keaton's weathered, old-school agent makes the perfect counterpart to O'Brien's skilled newbie. Lathan broke onto the scene with a series of movies in 1999 and 2000 that included Catfish in Black Bean Sauce, The Wood and The Best Man before blowing everyone away with Love & Basketball. She's a welcome presence here as one of the people calling the shots. Shiva Negar portrays foreign agent Annika, and her impressive acting and charisma will certainly lead to other projects.
Whether it's James Bond, Jason Bourne or, now, Mitch Rapp, a good spy film mixes action and stunts with exotic, iconic and interesting locations all over the world. American Assassin easily meets these requirements. Most of the action involves creative fight sequences and gun battles, but there are chases and stunts in cars and other vehicles to mix up things. Although this plot takes Rapp to a few other places, the filmmakers shot most of the footage in real-world sites such as London, Rome and Istanbul that are actually part of the plot. Such sequences in recognizable places bring more realism and excitement to films. Only movie magic could pull off a car chase in the normally crowded streets of Rome, but I'm ready to suspend disbelief for such a good scene.
Unfortunately, the story lost me near the end with some missteps. I'm not sure whether the finale was adapted from the novel of the same name, so I can't blame the filmmakers if they remained true to the original. Nevertheless, an awful fight sequence would probably literally jump the shark if there was one nearby, and I take issue with the ridiculous plot elements that tarnish Rapp's efforts to that point. In a film that repeatedly brings up the theme of characters not following orders, the writers probably should have challenged their own work and rewrote the finale. American Assassin taps into some of the global chaos of the day and brings some catharsis for those who want to see the little guy win once in a while.