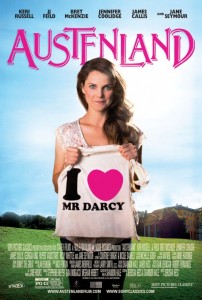 A bookish loner spends her life savings to experience a dream vacation where everything is like a Jane Austen novel in Austenland.
Jane Hayes (Keri Russell) is the consummate Jane Austen fan. She has read her books countless times, knows the movies by heart and even has a life-size cutout of Colin Firth as Mr. Darcy. Her fascination is concerningly compulsive. She's also a hopeless but hapless romantic in her own life. Then she hears about a vacation spot in England where the world of Jane Austen is brought to life. Patrons take on the roll of a character of the era and interact with other guests and actors all against a backdrop dripping with the simplistic splendor and romance of the age. This is her moment, and she has to be a part of it no matter the cost.
Once there, she meets a whimsically odd guest who's chosen the character name Elizabeth Charming (Jennifer Coolidge). The entire experience is run by the irascible and gruff Mrs. Wattlesbrook (Jane Seymour), who dismissively points out that Jane's package is just the basic package and not the platinum level that the other guests have opted for. As a result, she'll get a basic room, basic costumes and a backstory befitting of her limited means.
Jane, Elizabeth and one other guest, Lady Amelia Heartwright (Georgia King), spend their days looking to attract the attention of the key actors in the affair. They include the quirky but curious Colonel Andrews (James Callis), the steamy seaman Captain George East (Ricky Whittle) and the debonaire Mr. Henry Nobley (J.J. Feild). There's also a cadre of servants who apparently aren't part of the main story but help keep up the grounds and the illusion. Jane finds herself most interested in one of the groundskeepers, Martin (Bret McKenzie), who generally holds everyone there in disdain — except for Jane.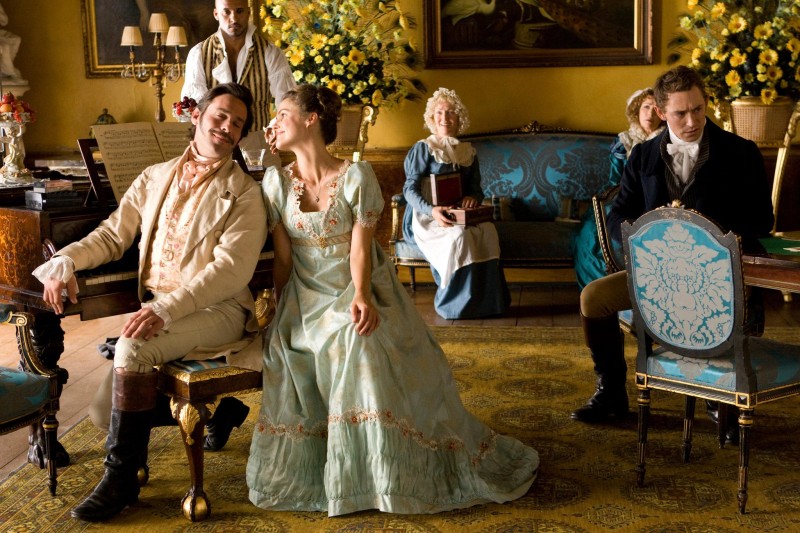 The film is a treasure trove for Austen fans. I haven't read any Austen novels, but I have seen and enjoyed Pride & Prejudice, Sense and Sensibility and Emma. I'm told the grounds used in the film were also the ones used in the famous TV miniseries and that several key monologues are also re-created here.
The biggest issue with the film is Russell. She doesn't fit the role at all. The script doesn't help, either, as it has her playing a shy mouse in one moment and a take-no-prisoners leader in another. The rest of the cast is equally questionable. The only chemistry to be found is between Russell and Feild. Coolidge does her typical and increasingly tired airhead schtick while Seymour really is given no chance to do anything with her single-note role. The "actors" are supposed to be bad actors, but even their bad acting is subpar.
Then there's the silliness of it all. We're supposed to believe that this re-creation is possible, with a staff of at least 30, on a palatial estate, yet there are just three paying customers and one of them has only paid for the basic package?
It has a few good laughs and a nice moment or two, but this is definitely not Austen-level material. Sadly, the film has no pride and lacks all sensibility.