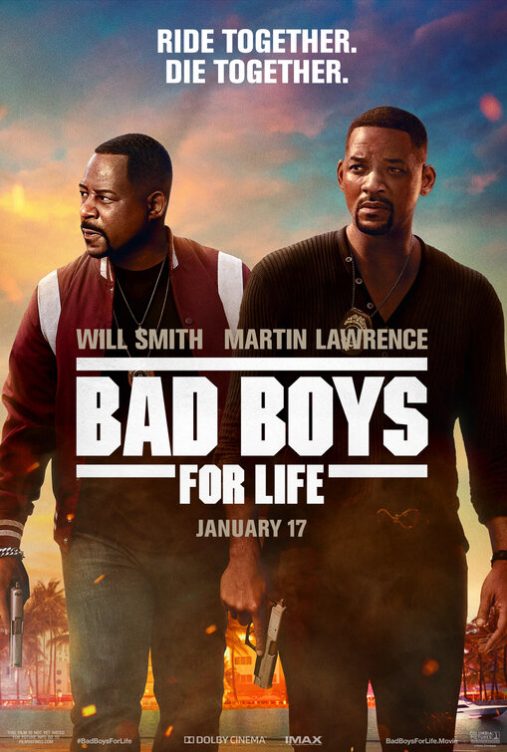 Buddy cop films trace their roots to cinematic productions early in the 20th century. Memorable first entries of franchises in this genre include 48 Hrs., Rush Hour, Lethal Weapon and Bad Boys. An examination of such movies would reveal a lot of similarities as well as what makes each one special. In most cases, the chemistry and personalities of the partners draw you in as you watch them solve one or more cases. Will Smith and Martin Lawrence proved to be a humorous team like their predecessors when Bad Boys was released in 1995 and Bad Boys II followed in 2003. Sadly, the magic doesn't carry over 17 years to the latest release. A number of factors could be to blame. Bad Boys for Life delivers older men in strife as it goes from bad to worse.
Michael Bay directed the first two Bad Boys films, and his departure may have been the change that ruined the third despite a cameo in it. Belgian directors Adil El Arbi and Bilall Fillah, credited as Adil & Bilall, took over the reins from Bay and teamed up with writers Chris Bremner, Peter Craig and Joe Carnahan for the romps and chases through Miami and Mexico City. Miami detectives Mike Lowrey (Smith) and Marcus Burnett (Lawrence) take different paths as the film starts — Mike to hunt down some killers targeting people from his past cases and Marcus to his recliner for retirement. Later, Captain Howard (Joe Pantoliano) requires Mike to work with old flame Rita (Paola Nuñez), who heads up an elite unit, rather than fly solo, and Marcus steps up to help his old partner. This plot could fit in almost any buddy cop film, and that alone would not raise your pulse rate with its been-there-done-that recycling.
Smith and Lawrence make a great team… with the right material. Here, they simply don't have the plot and script to play off their strengths. I looked forward to this fully live-action movie in part because Smith has been animated in some way in his last three projects (Aladdin, Gemini Man and Spies in Disguise). It has been a while since Lawrence's last big film, so this should have been a great homecoming instead of a crashing dud. After all, the first two movies were actually vehicles for Lawrence to show off his comedy with Smith joining him, and his name was to the left of Smith's on the posters. Their careers have shifted, and with Smith as the lead, the focus on action and bloody violence instead of comedy perhaps singularly ruins what worked before. Marcus doesn't back Mike until almost an hour into the movie, and that's simply too long to be without Lawrence's funny stuff. Pantoliano's scenes and comedic timing pep you up every time that he's on the screen, so he marks one in the plus column.
You get no shortage of beautiful shots of Miami and Mexico City from the filmmakers. The setting that led to the landmark series Miami Vice could have provided even more than the car chases along the famed beach and streets. The camaraderie between the lead actors works so well in key scenes and silly predicaments that this relationship and their banter save the proceedings from being a complete failure. The solid action and chases display some inventiveness, and Mike's blue sports car would make Jay Leno drool. Rita's talented team includes a buff tech guy (Alexander Ludwig), a know-it-all smartass (Charles Melton) and a useful tactician (Vanessa Hudgens). Ever-present throughout the film, the team brings some youthful energy in just the right amount without overpowering the leads.
For all that's good, I counted so much more that's, uh, bad. At a certain point, the movie lost me, and I just stopped caring. When it gets that bad, it's tough to recover, and a late twist took me further down the rabbit hole. The clichés were bad enough. A prisoner makes an escape that you can see coming before it happens? Check. Marcus's threats of retirement? Double check, and Danny Glover handled this much better. A character jumps to grab a ladder hanging from a helicopter? Triple check. Ugh. Bullets only seem to hit characters if the plot dictates it. Otherwise, dozens of fired shots miss like crazy. Why is Rita wearing heels in her team's control center? What cop works or runs in heels?! Rita's team likes sending a drone to check out the bad guys, including inside their locations. I don't know about you, but I'd easily spot a drone floating in a door 20 feet away. Using a round table as a moving shield comes straight out of Indiana Jones and the Temple of Doom. Even borrowing that bit didn't really bother me as much as stealing major plot twists from other films that I won't mention. After those reveals, it all fell apart and rose in levels of ridiculousness. A song by the German band Scorpions provides a better title for this mess — "Bad Boys Running Wild."
There are some clear winners. DJ Khaled has roles both here and in Spies in Disguise. I don't know his music, but I like his presence, personality and voice as an actor. Nuñez already showed up on my radar with her major role in the TV series The Purge. She upstages the leads in every scene in this star-making performance. Inner Circle wrote and performed the song "Bad Boys" that became the theme song for Cops and the title of this series. I hope that they still make money off this iconic song, especially with how many times you hear it or characters perform it. "We ride together, we die together. Bad boys for life" is a quote associated with the series. Although I've heard that a fourth movie is on the way, this one should just let the characters die together now.