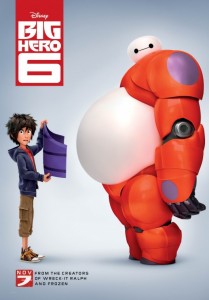 A brainy young teen, his robot companion and a group of misfit friends form an unlikely clan of crime fighters in the animated adventure Big Hero 6.
Hiro Hamada (voiced by Ryan Potter) is a natural whiz at robotics engineering. That's quite an accomplishment for an otherwise typical 14-year-old boy. He uses his skills to craft highly effective "battle bots" that compete against one another in local tournaments. However, his obsession with the hobby has become a distraction as far as the rest of his family is concerned. They want him to focus his energies on a more lucrative, more mainstream path. Hiro's older brother, Tadashi (Daniel Henney), is no slouch in robotics himself. He's a well-regarded student at a renowned engineering college and hopes to entice young Hiro into following in his footsteps. Tadashi shows his brother his own entry for the school's prestigious science fair — an impossibly adorable robotic health care companion that can troubleshoot and treat more than 10,000 different ailments in an instant.
It's Tadashi's mentor, Professor Callaghan (James Cromwell), who gives Hiro the final inspiration to submit his own entry to the fair. Hiro's newest invention captivates everyone at the show including Alistair Krei (Alan Tudyk), the billionaire CEO of a huge electronics conglomerate and Professor Callaghan's one-time coworker. As the fair draws to a close, tragedy strikes the facility, destroying far more than just Hiro's invention.
Soon thereafter, he begins to suspect something more sinister at play. Hiro recruits Tadashi's robot, Baymax (Scott Adsit), to help him investigate. Their foray leads to an ominous masked villain with incredible powers. Determined to thwart his plans, Hiro convinces his eclectic friends to use their knowledge of electronics to become a formidable team of superheroes, each with their own unique abilities.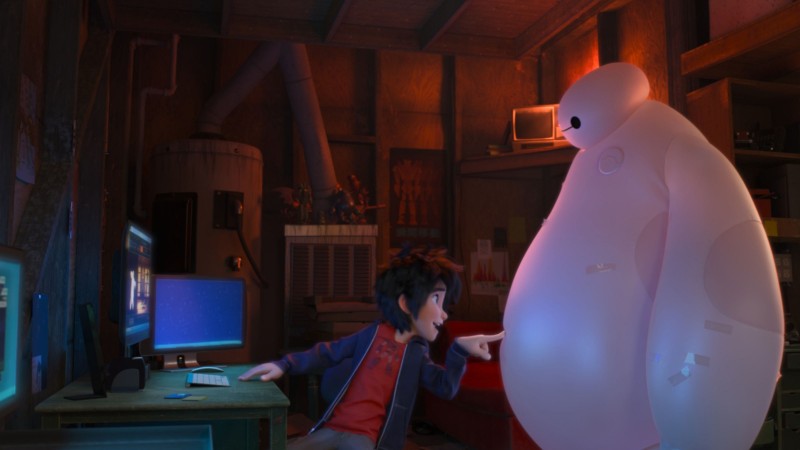 Disney's latest animated film represents a clear departure from nearly all of their most recent efforts that seemed primarily aimed at younger female viewers. This is a boy's tale from start to finish. The two main stars of the film, Hiro and Baymax, are perfect companions. The latter is one of the cutest characters that Disney has ever conceived — quite an accomplishment for a creature with very few facial features. Everything about Baymax as a character is pure genius from his mannerisms to his makeup. His dedication to health care provides an optimal opportunity to crack wonderfully entertaining one-liners while also never straying from a strong moral center. His physical design is equally impressive. He's primarily a large, semitransparent ball of inflated vinyl whose every move is accompanied by hilarious squeaks.
The real magic of the film is the relationship between Hiro and his ever-diligent cuddly cohort. Unfortunately, much of the second half of the film focuses on an action-driven superhero plot that doesn't quite work. The story behind it is as thin as Baymax's outer shell, and it goes on far too long. Younger viewers will start to lose interest along the way. It feels as if the writers were forced to serve two distinct masters, and in the process, they end up alienating both.
Nearly every scene that's focused mainly on the core duo is simply amazing. Every step beyond that deflates the story as reliably as a beach ball in a pin factory. This won't have the impact of Frozen, but watching Hiro and Baymax together is worth the price of admission alone.