A once famous, now nearly forgotten, actor struggles to produce a new Broadway show in Birdman or (The Unexpected Virtue of Ignorance).
Back in the '80s, Riggan Thomson (Michael Keaton) won the coveted role of iconic superhero Birdman and with it the commensurate fame and fortune of a superstar. Within a few short years, the role also delivered its counterbalance — a typecasting anchor that would drag the star kicking and screaming back towards obscurity and obsolescence. Thirty years later, he's lost most of his fan base, hair, looks and money while adding an ex-wife (Amy Ryan), a recovering-addict daughter (Emma Stone) and a serious case of unchecked paranoia.
Thomson embarks on a bold plan to emerge from the shadows of his superhero persona and back into the spotlight through Broadway. He's sold an adapted script for a daunting tale in which he plans to star and direct. The last of his money and his meager reputation are inexorably tied to this one final hurrah. As the rehearsals begin to wind down, the problems start to mount, threatening both the play and Thomson's sanity. Suddenly, a powerful force seems to descend on the theater itself — the soul of Birdman, now speaking to Thomson through his subconscious — to once again save the day and restore the beleaguered star to his rightful place as one of entertainment's brightest stars.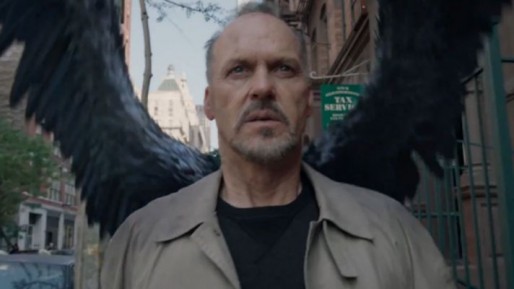 Writer/director Alejandro González Iñárritu (21 Grams) gives us a film that takes parody on a whole new journey. First, there's Keaton. Like Thomson, he also played a superhero in 1989's Batman before reprising the role in 1992's Batman Returns. Keaton could also claim that he knows a bit about life on the other side of superstardom. Most people would say that his last major success was 1996's Multiplicity. Thomson's main costar, Mike Shiner, is played brilliantly by Ed Norton. Shiner is intolerable, unpredictable and impossible on the set, mimicking Norton's own on-set reputation. The purposeful litany of similarities have a strange way of bleeding reality into a story that's anything but.
The story itself is an open poke at the entire comic book universe, from the fans who follow it to the stars who take part in it. The performances from all involved, including Naomi Watts and Zach Galifianakis, are perfectly tuned to the joke. Unfortunately, it's a joke that's too smart for its own good. While technically flawless, the resulting film is pretentious to the point of distraction. It's overly long, often nonsensical and downright dull for long stretches. The only interesting plot point, involving Thomson's mental state, is handled with the same effectiveness as a lumberjack attacking a sequoia with a butter knife.
We're clearly supposed to marvel at Iñárritu's ability to bring it all together and keep us enthralled. The feeling that I left with is the same one that we all get when we suddenly realize that our shirt's been soiled by a large bird flying overhead.