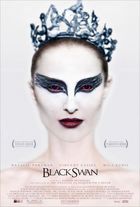 In a mad dash to see just a few more films of 2010 I managed to catch three very strong ones this past weekend. The first film was the dark and foreboding Black Swan staring Natalie Portman along with Mila Kunis and Barbara Hershey.
In a bit of unexpected fun the audience sat in the theater at the start confused by the previews we were getting. Generally theaters are smart enough to choose previews that are similar in nature to the film you're about to see in the thinking that if you like that type of movie you're apt to like more of the same genre. So there we sat watching one animated movie preview after another. Then we started thinking we might be in the wrong theater. Finally the movie started and we saw the familiar view of Cinderella's castle marking this as a Disney film. Uh oh. Next the first moments of the movie appeared and it was clear we were watching Disney's Tangled which I'd previously seen (and liked but not enough to watch it right then). Everyone started cracking up and chatting loudly as someone noted that others had left to alert management to the issue. All of this was lost on one viewer who screamed at all of us to shut up as he was trying to watch the film. It was then he realized he was actually in the wrong theater and managed to nearly see exactly what he expected all by a double mistake. I have little doubt that had the main film been one without much of an audience he may have just managed to pull that all off without ever being the wiser.
Anyway, Black Swan is the story of a young ballerina who may not quite be ready for the step up her career is about to take. Her mental state collapses in direct proportion to the increasing levels of stress. It doesn't help that she's smothered by an overbearing perfectionist mother and former dancer (Hershey) who seems, on first blush, to not fully understand the weight her daughter is carrying.
The film is rife with striking imagery meant to confuse the audience and to keep everyone guessing about the true nature of the plot. We get images we can't fully trust or that simply defy logic—all intentional. This, of course, has been done before and it's probably my biggest gripe with an otherwise impressive film.
Black Swan is a typical "mind-screw" film and I've already seen a few of those this past year alone. This one will leave much of the audience endlessly confused at each hard-left turn. What you do get is essentially a ballet within a ballet down to even the ever-present orchestral music score. The question is which of these is real and which isn't?
The acting is quite first-rate which we've come to expect from Portman and Hershey but extends also to the rest of the supporting cast including Kunis and Vincent Cassel. There's also a wonderful performance from Winona Ryder as the veteran dancer whose being retired thus making way for Portman's character.
There are some rather graphic scenes in the film but they're done well and, much like Mulholland Drive (the perfect parallel example), are critical to the story. The film caused a bit of negative press for Portman as she's involved in an extremely realistic sexual scene with Kunis that apparently caused some degree of friction with her family (or so it was reported).
If you don't like "arty" movies, then this is one to avoid at all costs. It's very much a work of passion and clearly will appeal to those who love such endeavors. This one almost pushed my boundaries in that area but not quite. However, much of the audience I saw it with were laughing heartily at the conclusion, and here, that's not a good thing.