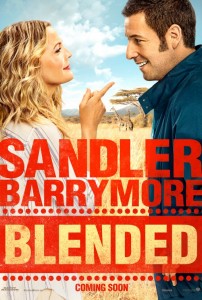 Two divorced parents transform a horrid blind date into a surprise African vacation in the romantic comedy Blended.
An overly laid-back store manager and father of three girls, Jim Friedman (Adam Sandler), goes on a blind date with an obsessive closet organizer and mother of two boys named Lauren Reynolds (Drew Barrymore). Jim's used to having a wife around who doesn't really expect that much and who just loves him for the stereotypical man that he is. Lauren's looking to be swept off her feet by an attentive suitor who knows how to treat a lady. It's a date neither of them will ever forget, although both immediately wish that they could.
Soon after, Lauren's best friend Jen (Wendi McLendon-Covey) is having second thoughts about her rich, divorced, longtime boyfriend, who just happens to be Jim's boss at the sporting goods store. They were planning an elaborate, all-inclusive romantic getaway to South Africa. Jen cancels at the last minute, leaving this dream-come-true opportunity up for grabs. Jim immediately calls his boss to ask if he can take his place. Lauren, without knowing what Jim's up to, asks Jen if she can go in her place. Both see it as the perfect chance to get away with their kids at a price that can't be beat. Of course, once there, the ill-suited couple realize they'll need to spend the entire vacation together under the same roof. Imagine a reality TV version of The Brady Bunch, and you'll be on the right track.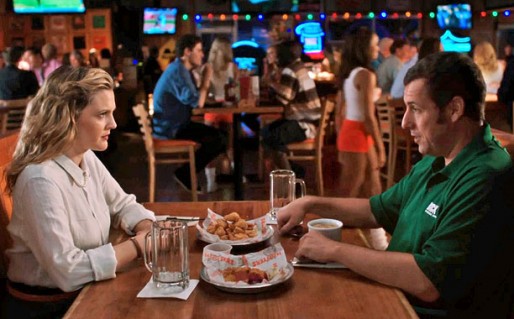 I haven't been the biggest fan of either Sandler or Barrymore. I've found much of their work, including their collaborations, too predictable, silly and just not that entertaining. Much to my surprise, the laughs started from the first scene and never let up. One winning zinger followed another in such reliable rapidity that I barely had enough time to come up for air. When it finally relented, it only did so long enough to surprise me with a wonderfully touching moment or romantic interlude that left me grinning like a schoolboy.
This is a film that will likely appeal to almost everyone — especially parents, who will laugh and cringe just a little harder than the rest. Despite a few speed bumps (some overt ad placements, a girl/boy joke that goes on too long and a tendency to become hokey once or twice), this is match made in heaven. It's the third film pairing Barrymore and Sandler. The first two (The Wedding Singer and 50 First Dates) have their fans, but for me, the third time's the real charm.