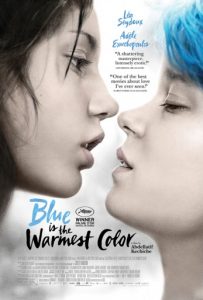 Every year brings at least one new coming-of-age story. My favorite from this year is The Way, Way Back. Plots about sexual awakening are perhaps rarer, and when they do appear, they usually focus on a male's perspective. It's a challenge to successfully combine the two types of films in a single experience and center it on a female. Blue is the Warmest Color does exactly that as it focuses on the formative moments of a young lady as she transitions from teenager to adult and sexually confused to confident.
This three-hour epic of the heart comes from cowriter/director Abdellatif Kechiche (writer/director of The Secret of the Grain, director of Games of Love and Chance and cowriter/director of Black Venus) and cowriter Ghalia Lacroix (also writer of Games of Love and Chance and cowriter of Black Venus), Kechiche's editor on all four of his most recent films. The film is based on the French graphic novel Le Bleu est une couleur chaude by Julie Maroh, and without having read it, I can't comment on the quality of the adaptation. I do know that they changed the name of the main character from Clémentine to Adèle because there was a lot of background footage shot in which the main actress was called by her real name, so they just found it appropriate to change the character's name to match this footage. Additionally, many of the major plot points in the graphic novel do not surface in the movie. In fact, the movie takes on a life of its own as it follows the events in Adèle's life over a decade. Appropriately, the French name for the film is La vie d'Adèle – chapitre 1 & 2.
Adèle (the extraordinary Adèle Exarchopoulos) is a junior in high school who lives in the French city Lille. She's dealing with all of the normal teenage things like a close circle of female friends who share everything and a developing interest in boys and sex. When Adèle spots the blue-haired Emma (Léa Seydoux of Sister and Midnight in Paris) on the street, she feels an immediate attraction — perhaps the love at first sight that they discussed in class — and can't get her out of her head. After things just don't feel right for Adèle with boyfriend Thomas (Jérémie Laheurte), Adèle goes out to a gay club with her gay friend Valentin (Sandor Funtek) and sneaks out to the lesbian bar next door where she spots Emma and practically stumbles over her words when Emma approaches her. Thus begins a friendship that turns into a full-blown love story that spans the years before eventually encountering a rough patch or two. Blue is the Warmest Color follows this relationship at the beginning and the end but skips over the middle in an interesting method to tell the story. Exarchopoulos and Seydoux are outstanding, and their characters feel lived in and real instead of outer skins worn by actresses.
In an unusual move, the Palme d'Or was awarded for the first time to the director as well as two of his actors at the 2013 Cannes Film Festival. After watching Blue is the Warmest Color, that unique distinction is not a surprise. Kechiche does some really wonderful things to tie the story together and present the plot in ways to show the development of Adèle and the people around her. Doors are often symbolic in movies, so it's an especially important sequence when Adèle spots women heading to the lesbian bar through the door of the current club and then exits through that same door before her short journey to the bar. Scenes of transition and contrast pepper the film. Early on, Adèle and her friends march in a parade demanding education equality. Later, Adèle and Emma walk hand in hand down the same street in a gay pride parade. Kechiche juxtaposes the experiences of the young ladies at their parents' houses. At Adèle's house, pasta is served with lots of sauce and Adèle's parents think that college art student Emma is helping Adèle with her homework. At Emma's house, her mother and stepfather greet Adèle as Emma's girlfriend and introduce her to oysters and fine wine. There's an underlying current of upper class versus working class in the film, and Kechiche smartly hints at such tensions instead of dealing with them in an obvious way. For example, Adèle has only just met some of Emma's friends at a party, but she brings a bit of her life and family literally to the table when she serves a huge bowl of pasta that these new friends all enjoy. That mixture of down home cooking and Emma's artist friends would be the recipe for a successful relationship if both women fully let go.
Exarchopoulos and Seydoux do such a good job here that it will take a minute or two to mentally disconnect them from Adèle and Emma in their next movies. Ultimately, this is all about Adèle, and the French title alludes to the true focus of the film. The first chapter covers the developing love of the two women, and the second chapter explores what happens when the women grow apart as Adèle matures and Emma essentially grows bored with her after trying to mold the committed teacher into an artist. Exarchopoulos is so good at displaying Adèle's emotions that you only need to watch her for a few seconds to see what's going on with Adèle internally. Adèle is so disappointed in bed with Thomas that she has to turn away. In bed with Emma, she undergoes a transfiguration. This explains the utter despair and detachment she later exhibits in the middle of a dance display with her students. Seydoux succeeds in exploring a more masculine approach to Emma, almost like a biker or a punk with her jeans than just an artist with blue hair. Think James Dean or, even better, Jo from The Facts of Life. Seydoux goes out of control in a fight scene, and both actresses run the gamut of emotions in a sort of reconciliation dinner between Adèle and Emma.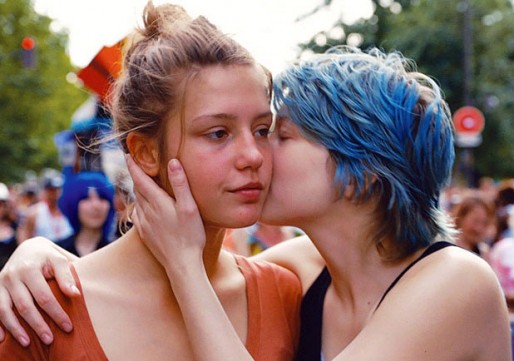 Blue is the Warmest Color is one of those rare NC-17 movies, and the rating is because of the explicit sex scenes between Exarchopoulos and Seydoux. These sex scenes fit the story. In fact, there are no explicit sex scenes in the second half of the movie, so the gymnastic-like sex is an outward expression of the two new lovers' hunger for each other and exploration of their love. Exarchopoulos and Seydoux are beautiful young actresses, so the sex scenes are like paintings by famous artists in some moments and perhaps animalistic in their intensity in others. There's a bit of humor involved, too, with the women commenting on Adèle's parents and what they think they're doing (studying) in the bedroom. Kechiche has taken some heat because he's yet another straight man depicting a lesbian relationship and sex. I don't know if that matters, although there is a lot of ass slapping going on that seems out of place. Ultimately, I believe that less is more when it comes to sex in movies if it affects the ability for people to see them. I respect Kechiche's vision, but I think he could have easily shown or implied the same intensity in the sex scenes without eliciting the dreaded NC-17 rating that stunts advertising and theatrical availability. Kudos must go to Exarchopoulos and Seydoux for exposing their bodies as well as their emotions and enduring the rumored days of filming for these scenes.
If all of that wasn't enough, Kechiche does one thing that makes the film more involving to watch. Every single scene and frame in the movie has some shade of blue in it. It's a pretty impressive feat to pull off that turns Blue is the Warmest Color into almost like a Where's Waldo? book with the shades of blue replacing the striped traveler. Most of the occurrences are obvious, and I'm sure that they all allude to Emma's hair color. Adèle breaks up with Thomas on a bright blue metal bench. A friend who compliments Adèle has both blue fingernails and rings. Signs in the backgrounds, powder thrown in one of the parades and the lights bathing the scenes in the gay club are all blue. If you haven't seen this movie yet, take note of this creative aspect to the movie that is clearly intentional and not accidental in any way.
I went into this movie knowing only that there was a lot of explicit sex. It's unfortunate that a story that charts so perfectly the development of emotional maturity and love in a young lady has that stigma attached to it. Kechiche and his leads all excel in their roles that it would be a shame for movie lovers to avoid this film and miss out on the complete story and the acting that involves a lot of improvisation in most cases without makeup. Blue is the Warmest Color deserves its awards and introduces a level of maturity in its depiction of love that challenges moviegoers.