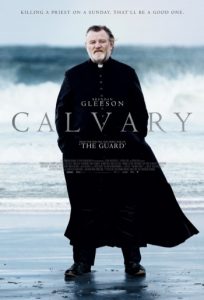 An Irish priest taking confessions is mortally threatened by one of his parishioners in Calvary.
Every Sunday brings a litany of never-ending sins confessed to the local priest by his flock of imperfect penitents. Father James Lavelle (Brendan Gleeson) has heard it all over the years, but this session is different. The ominous male voice coming from the other compartment is highly troubled. He tells Lavelle of the sexual abuse that he suffered as a child at the hands of another priest. The voice coldly promises that a good priest must die next Sunday as the only fair way to settle the score and that Lavelle will be the target. Of course, the priest recognizes the man but chooses to let him go for the time being. This is neither the time nor place for a confrontation.
As the days tick by, Lavelle spends his time attending to the needs and concerns of the people living in his small Irish community. Every encounter has its own way of testing Lavelle's faith. The town's only untroubled soul, it would seem, is the one he's soon to lose. It belongs to an elderly writer (M. Emmet Walsh) who's depending on the Father for guidance in his final days. The rest of the town tests his faith in far more traditional and cynical ways. All the while, his confrontation grows closer.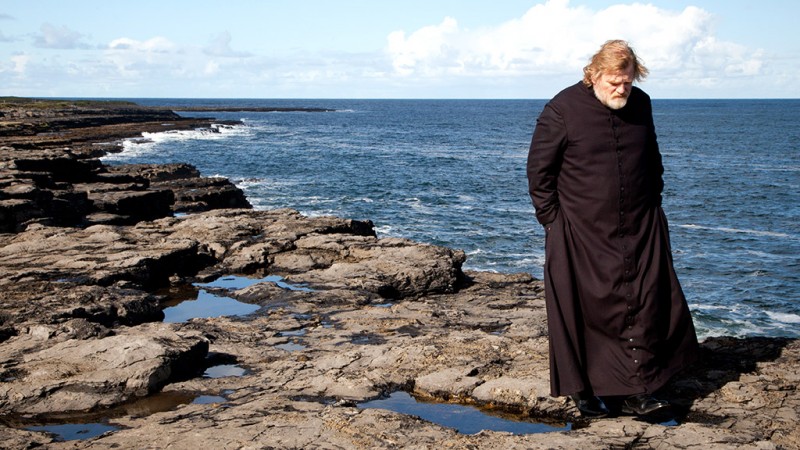 Writer/director John Michael McDonagh last gave us the wonderfully wicked 2011 comedy The Guard (also starring Gleeson). The relationship between the two films is unmistakable. Both take place in Ireland and feature heavily dark overtones with slow-burning, methodical plots that build to unexpectedly powerful endings.
In an Oscar-worthy performance, Gleeson finds himself surrounded by a cast of equally competent performers. Dylan Moran and Chris O'Dowd (in his first serious role) are both unforgettable as, respectively, the town millionaire and the local butcher, while Kelly Reilly impresses as Lavelle's estranged daughter Fiona. (Lavelle was a widower before becoming a priest.)
The beauty of the story is in how it brings us along to experience Lavelle's crisis of faith firsthand. This good-hearted man, carrying the burden of his own personal troubles, finds himself surrounded by the most loathsome souls imaginable. The tension builds with each passing day, but to what we're never quite sure until the moment arrives. Aside from its intentionally slow pace, there's a heavy dose of Irish brogue, at least early on, that takes a bit to adjust to.
McDonagh's approach to storytelling demands a level of patience that many viewers are likely to find trying. For those willing to make the investment, the result is an unforgettable, haunting tale of faith and forgiveness.