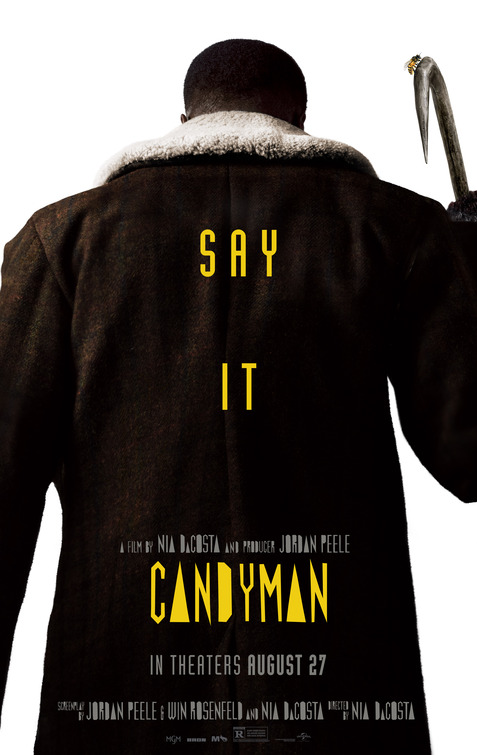 Urban legends last forever. When I was a kid, the popular story was to say "Bloody Mary" three times into a mirror to unleash a terrifying ghost. As Catholics, we somehow tied the legend to Mary Magdalene. Back in the 1992 original film entitled Candyman, that kind of invocation was used to summon a vengeful spirit with a terrible past by repeating "Candyman" five times while looking into a mirror. The movie became a cult hit and led to a couple of sequels. Almost 30 years later, a new Candyman emerges to reclaim the attention. Candyman transcends standard horror fare because of creative filmmaking choices and a believable cast.
Writer/director Nia DaCosta (Little Woods) and writers Jordan Peele & Win Rosenfeld dive headfirst into the folklore of the character known as the Candyman and deliver a new twist with a thread of social justice. The filmmakers smartly present a message without bashing you over the head with it; they glaze it in honey and feed it to you along with the terror. Painter Anthony McCoy (Yahya Abdul-Mateen II of Watchmen and The Trial of the Chicago 7) and girlfriend/art curator Brianna Cartwright (Teyonah Parris of The Photograph and WandaVision) live in a gentrified area of Chicago where the infamous Cabrini-Green housing project was located. Anthony learns from a local laundromat owner named William Burke (Colman Domingo of Fear the Walking Dead) the legend of the Candyman. The son of a slave, artist Daniel Robitaille painted the portrait of a white woman, fell in love with her and was brutally murdered by a mob. William grew up with his own local version of the Candyman — a disfigured man named Sherman Fields (Michael Hargrove) who supposedly delivered razor blades to kids and was beaten to death by cops. Anthony makes the mistake of calling out to the Candyman and descends into madness as he discovers his own connection to the Candyman legend.
Candyman's strong black leads sell the story. I'm not familiar with Abdul-Mateen II or Parris, but I'll keep my eye on them now. Abdul-Mateen II shoulders the bulk of the tough scenes, and his anguish hits you as hard as the segments with his diseased hand following a bee sting make you cringe. Parris goes beyond just supportive girlfriend for Brianna to become a champion for Anthony despite his weird behavior. The writers give her a great reaction to creepy stairs going into the basement. I'm not sure whether that bit came from DaCosta or the other writers, but especially after Peele's Get Out, black characters are no longer dumb targets for horror movie killers. Domingo takes command of the screen in any scene, as he does in his TV show, and his deep voice and distinct diction make him uniquely qualified to tell the story of the original Candyman as well as the one of his youth. Nathan Stewart-Jarrett elicits laughs as Brianna's brother Troy, and he gets perhaps the best line of the movie when he emphasizes that "black people don't need to be summoning shit." Vanessa Williams appears in just one scene as she reprises her role from the 1992 original; I wish that she had more screen time because she steals that scene.
DaCosta takes Candyman to another level with her vision and methods of conveying it. She doesn't merely use stock shots of Chicago's skyscrapers; she places the camera at weird angles from ground level to convey how small people might feel against them. Right from the start, you know that you're in for a different kind of experience when the logos are reversed as if in a mirror. I thought for sure that the projectionist screwed up, but that can't happen anymore with digital projection and no film reels. DaCosta stages a number of scenes in the remaining patch of Cabrini-Green homes, and they're also prominently featured in shots with the Sears Tower in the distance. With mirrors essential to the Candyman folklore, DaCosta plays with a number of reflective surfaces (a compact, a dryer door and mirrors of various sizes). Since these surfaces are unreliable in the images that they present, you never know what you're going to see. DaCosta has a great eye, and even a simple sequence of Anthony leaving a hospital becomes something better with an amazing long, covered, outdoor walkway in the rain. Perhaps the most impressive addition to the narrative is the use of shadow puppets to tell the backstory of the Candyman legends. A special teaser trailer shows the entire sequence, which makes even more of an impact when woven into the live action.
For a horror film, there is surprisingly little gore. With the exception of one slicing, most of the violence happens off screen or in the distance. Even more impressive, many of the victims are attacked by an unseen presence because Candyman can mostly be seen in the mirror and not our world. The worst parts that will make you nervous or look away involve Anthony's hand as it worsens. From small bee sting to mangled hand, you will squirm as Anthony picks at the sores on his hand. I would have rather seen graphic deaths, but that's the way that DaCosta wanted to horrify audiences. The original movie took inspiration from a Clive Barker short story; Barker fans should try to spot one of his books in the film.
When scenes alone don't convey a mood, music helps it along. Robert Aiki Aubrey Lowe treats you to a haunting score, an example of which can be found in the puppet trailer. Even stranger and creepier, he repeats some sounds from an instrument that I can't quite place — a synthesizer's version of an oboe or trumpet or maybe something of his own creation. From the use of Sammy Davis Jr.'s "The Candy Man" to Lowe's score, the music drew me in. I'm amused that the official trailer plays off the tagline of the film to include snippets of Destiny Child's "Say My Name." This horror movie will likely fly under the radar because it's the dead spot of the summer for movies or people will think that it's a remake when it's not. It's worth saying his name just once at the box office to enjoy the timely and creative Candyman.