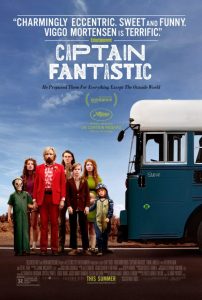 A naturalist family is forced to confront their differences with the world at large in Captain Fantastic.
The Cash family lives a life that few people today could really understand, but that many find curious and alluring. They live in the middle of nowhere surrounded entirely by nature and dependent on no one but themselves for all of their survival needs. This quirky little film mesmerizes us with its dream of a bohemian nirvana and then wrenches us from that epic, basic splendor to face the real world once again.
What makes writer/director Matt Ross's film so special is how it artfully draws us from one perspective to another and back again. The performances from everyone are memorable. Viggo Mortensen is perfectly cast as the fearless, single-minded father Ben. Frank Langella nearly steals the show as the apoplectic father-in-law. We also get a glimpse of a star in the marking in Samantha Isler as Ben's daughter Kielyr.
This is a unique film that sparks some great conversations. It opens our eyes to the myriad possibilities that we only dare to consider from afar while wishing life could be this simple.