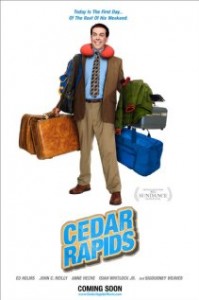 Ah, the rigors of traveling for business. I do it all the time and often find time to hit the local cinema to appease my endless movie fix. This time I ended up seeing a rather timely film about travelling for business. It's Cedar Rapids starring Ed Helms (from The Hangover, The Office and The Daily Show fame). Ed plays insurance salesman Tim Lippe from a very small town in Iowa. The curious thing about Tim is that he only marginally recognizes that insurance salesmen aren't the most respected people around. For him this is a dream-come-true job. He recalls how, as a child, after a major disaster an insurance salesman came in to help out his family just when they needed it most—very much like a superhero. In the small town he comes from this plays perfectly. It's when he's called upon to represent the company at an industry event in the "big city" (Cedar Rapids) that we really understand how sheltered his life has been.
Tim is incredibly innocent in virtually everything life has to offer and is in no way equipped to deal with the complexities of the politics of conventions and the old vets that attend. They, of course, see a very green sheep, thick with a deep coat of wool just begging to be sheared while he doesn't even know about shears.
He ends up getting derailed by three main vets (played by John C. Reilly, Anne Heche and Isiah Whitlock, Jr.) who each bring their own unique styles to the story. Reilly's character, Tim is told, is to be avoided at all costs which, of course, means Tim won't be able to avoid him. Reilly is an actor I have much trouble with. He's clearly talented but I simply don't like 90% of the roles he plays. They're always goofy, stupid and over-the-top. Thankfully here we're spared much of the shtick and you can just enjoy a job well done. Heche also proves well-suited for her role as the "what happens at an event, stays at the event" huntress. She's out for some escape from her home experience and Tim seems the perfect distraction. Poor Tim will never know what hit him.
There are also some wonderful supporting efforts from Sigourney Weaver, Kurtwood Smith and others.
The main issue with Cedar Rapids is that it's just a bit bland. There's not a lot in the way of laughs and it keeps everything a bit on the dark side. You're never sure if this is supposed to be a comedy or a drama and, in the end, it doesn't quite succeed at either. It's one of those movies I'll struggle to remember when I do my yearly roundup of films but it certainly wasn't a waste of time to see. It just wasn't anything special—much like Cedar Rapids—so I guess perhaps it's apropos.