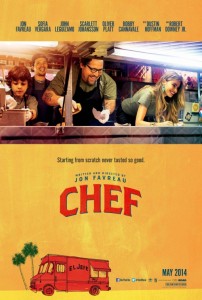 A frustrated top chef loses his way before a food truck leads him back in Chef.
Carl Casper (Jon Favreau) sweats every detail as the head of a top kitchen's staff in a very popular Los Angeles restaurant. The owner is a very successful but risk-averse entrepreneur whom we only know as Riva (Dustin Hoffman). They spend much of their time endlessly bickering over the daily menu. Carl wants to wow the critics with exotic dishes, while Riva insists the patrons get the less sexy but highly bankable staples that he believes they come for.
Carl's take-no-prisoners attitude toward work keeps him there long hours. It costs him his marriage to his extravagent ex-wife Inez (Sofia Vergara) and estranges him from his adolescent son Percy (Emjay Anthony). When push finally comes to shove with Riva, Carl finds himself without a job and with no real prospects. He decides to take a chance by fixing up a beat-up food truck and traveling across the country to win back his reputation.
Chef is a father/son bonding film that starts with all of the ingredients for a hearty, memorable meal. It features lots of elaborate dishes, some first-rate talent and a fairly original story. The best food-centric films can hypnotize the audience with mouthwatering dishes that help drive home the allure of cooking. The best example is, without question, 1996's Big Night. People would often run to the lobby, mid-film, to lock down reservations for dinner immediately following the show.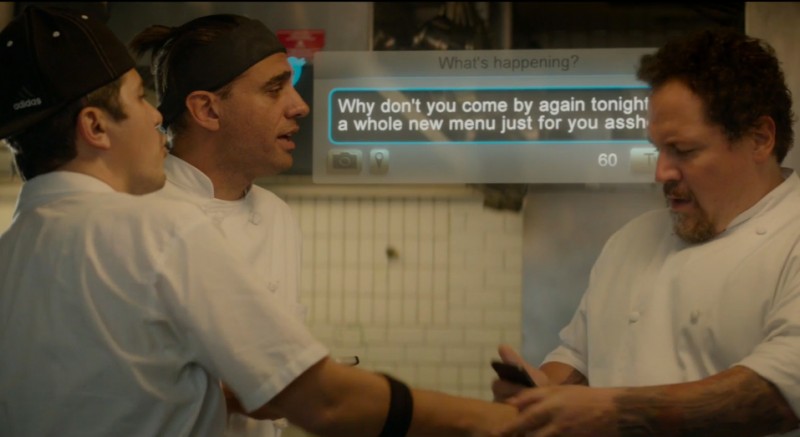 Unfortunately, the table gets filled with too many predictable appetizers. When it's finally time for the main course, we've already lost our appetite. The food, like the rest of the film, just isn't all that enticing. The characters, likewise, are mainly bland, lacking the spice that comes with any beneficial character development. There's also a major plot point involving Twitter that comes off like a gratuitous, over-baked commercial.
Favreau does a fine job, as does Oliver Platt playing L.A.'s premiere food critic, but the rest of the cast, including Scarlett Johansson and John Leguizamo, are little more than salad dressing.
The most disappointing course is the final one. Carl, his family and their friends spend an overly-long film looking for the one magic ingredient that will bring them all together. What happens when they finally find it? Carl delivers the recipe, gorges on the meal and then resorts to a final, inexplicable bout of bulimia. This would-be banquet turns out to be nothing more than a garden variety buffet. Tip accordingly.