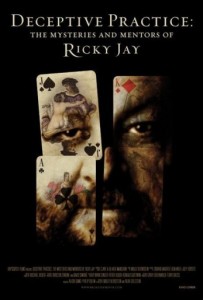 When I was a kid, I loved magic and avidly studied any tricks and books that I could get my hands on. My only performances were for occasional, patient family members after dinner and my mother's friend from down the street after church on Sundays. I'm not sure how he did it, but my father managed to get me backstage to meet Harry Blackstone Jr. after a show in Philadelphia. He and his wife/assistant, Gay Blackstone, were very nice to me despite tending to their children and encouraged me to continue with magic. Sadly, my parents didn't nurture that side of me and instead pushed me more toward math and computers. I especially wondered what could have been when I saw Darren Romeo, "The Voice of Magic," a few years ago and he related in his show how he had met Blackstone Jr. as a child and gave him a business card for his act. Gay found that card still in her husband's wallet when he died; he clearly thought that Romeo was special and mentored him in a way.
What does this all have to do with Deceptive Practice? Subtitled The Mysteries and Mentors of Ricky Jay, it's a documentary as much about amazing sleight-of-hand magician Ricky Jay as it is a recollection of the legendary magicians who taught and shepherded him as he learned his craft. In a similar way, this documentary follows the structure and central theme of Being Elmo: A Puppeteer's Journey as it details how a leader in his field reached that position with the help of others. Jay probably spent as many hours practicing card moves and tricks as Kevin Clash developed characters and voices before performing them. Director Molly Bernstein smartly sprinkles the movie with Jay's performances from his popular shows as well as bits prepared for this film, and I only wish that the documentary was longer so that there was more artistry from Jay or perhaps a bigger peek into his extensive collection. As it stands, Bernstein follows a good structure and ends the film on a kicker.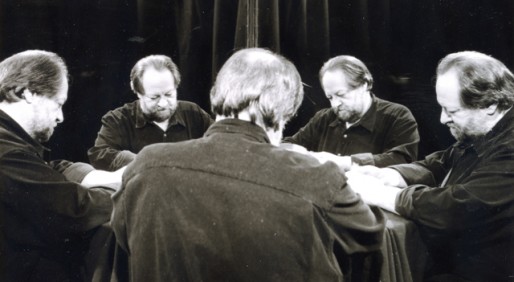 As with many of you, my first memories of Jay were his appearances in films from director David Mamet like House of Games and other movies like Mystery Men and Magnolia. Jay has an unmistakable authority and presence as a character actor that just fits certain roles. It turns out that this acting gig is a result of filmmakers admiring him for his magic skills. In particular, Jay excels at card tricks and sleight of hand that looks so natural that you can't begin to pinpoint when he makes a special move even if you're staring intently at his hands. This only comes after thousands of hours of practice alone and in front of a mirror. This rigor is something that Jay claims to enjoy. I can imagine that handling cards is a lot like playing golf in that you spend all day striving for that one move that comes off perfectly just like a golfer tries to make that perfect putt or hole-in-one. In addition to acting and performing magic, Jay also collects magic books and items. David Copperfield is also noted for his collection that's stored in a Las Vegas warehouse. I would love to watch these two compare collections.
Dick Cavett narrates Deceptive Practice, but it's really Jay's show from start to finish. He shuffles decks of cards effortlessly and produces aces from nowhere in extreme close-ups as he provides the background to his career. Born Richard Jay Potash in Brooklyn, Jay got his start in magic as an apprentice at age four to his grandfather, Max Katz, an accountant and amateur magician who not only taught him magic but also introduced him to famous magicians of his day like Cardini, Slydini and Al Flosso. These experts mentored Jay, and he rose in prominence over the years, making many talk show appearances, especially on Dinah!, the popular program of Dinah Shore. Jay talks fondly about the magicians who came before him, and there are many wonderful clips of the three conjurers mentioned above as well as Charlie Miller and Dai Vernon, men with whom Jay spent more time after he moved to Los Angeles. It's amusing to see a long-haired Jay in appearances on television, especially a version of a three-card monte trick that baffles Steve Martin.
You get the sense from Deceptive Practice that Jay is as married to magic as he is to the wife he married a few years ago. Mamet talks fondly about Jay and the shows he's directed, including the stage show Ricky Jay & His 52 Assistants. Others who experienced Jay's skills in person gush for the camera about his artistry. Jay met Michael Weber some years ago, and they are now partners in their business called Deceptive Practices, Inc. Bernstein balances the documentary nicely with Jay talking about his partnership with Weber and how they learn from each other, which is really Jay taking on that mentor role to others just as the greats before him took him under their wings. I could have watched Jay manipulate cards for hours, and I'm sure that there are videos and television clips that I can find to satisfy that interest. Bernstein ends with Jay reciting a poem written specifically for him by Shel Silverstein that has a twist. This documentary entertains and amazes from beginning to end like a balanced magic show. I found it particularly inspiring, too, so I think I'll go pick up a deck of cards and a book on sleight of hand.