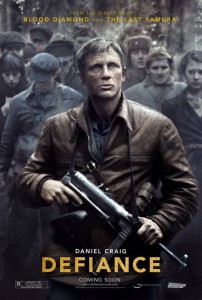 The next movie for this weekend is Defiance starring Daniel Craig outside his Bond persona.
It's 1941 and the Germans are storming through Eastern Europe. The plan is wholesale slaughter especially with regard to the Russian Jews they encounter along the way. Craig plays a true life character that, in the attempt to save his own family's life, becames entangled in the responsibility of trying to save the many who show up around him.
This is another excellent film and it really is good to see Craig in yet another good vehicle that isn't Bond. He was a good actor before Bond but that role has a tendency to bring the actor playing him down to a new low. Daniel Craig deserves a much better fate.
The movie is one you need to see to appreciate. My explaining it will only act to trivialize the events simply because we've all heard similar tales a thousand times before. This one is memorable and worthwhile because of the effort put into the details and the sheer power of its emotional tugs along the way.
On the downside it felt much longer than its 2 hour, 16 minute running length and I also had a very strong feeling that its "true" origins have been heavily dressed up for Hollywood here. Aside from that it's a movie that will make an impact and it's one that's worth experiencing.
Why I Wanted To See It:
Craig is an excellent actor and the story sounded just good enough.
Preconceived Notions:
Another Nazi Germany versus the Jews movie? Is there any ground left to go over here?
During The Movie:
How do people persevere through it all? To be reduced to this and still to go on.
Immediate Afterthoughts:
It took me until the parking lot to regain my composure fully. I'm glad I gave this the chance.