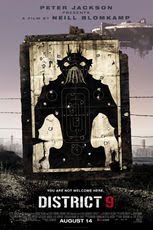 This weekend I saw the new Peter Jackson movie, District 9. Be aware that while this is being called a Peter Jackson movie that he produced it and didn't direct it. This is another movie that received nearly universal praise from reviewers and had a 91% rating on Rotten Tomatoes. Given my past troubles with movies rating over 90% I went into this one not expecting a whole lot.
It turns out that my expectations were still too high. The movie felt like a paper-thin morality movie about the horrible ills of rampant racism (taken right out of the mid-1900s) with a sci-fi alien action movie pasted on top. Essential it's a fantasy story about aliens that show up above our planet and end up being placed in internment camps, stripped of any rights and forced to live in squalor.
The plot is silly right from the start and doesn't improve much as it progresses. The ending is entirely a sell-out. There are some funny moments but this isn't supposed to be a comedy. Mainly the movie is just too long and flat throughout. I don't expect everyone to see it this way as some people applauded at its conclusion. I'd have applauded just it reaching its conclusion except for my concern that people might actually think I liked this thing.