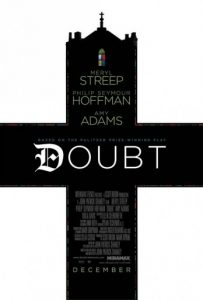 This Friday we tempted the Gods by venturing forth to see Doubt. This is the movie version of a Tony Award-winning play about a 1964 Catholic school and the people who shape its direction.
Let me jump right to the main impact. This is one of those movies you see to watch an acting Tour de Force. It's quite a stellar set of performances. Philip Seymour Hoffman is, as always, excellent. Here he plays the new priest trying to bring compassion to an institution that seems to exist only to combat it. His portrayal is dead-on. Within moments you forget it's Hoffman and think this actor has been in the priesthood his entire life. Amy Adams plays the young innocent Sister James in a way made for Adams. She too does an excellent job here. And then we get to the promised land. Meryl Streep owns the role of Sister Aloysius Beauvier, the unflappable, unbending, seemingly unfeeling principal of the school. Her portrayal is nothing short of Oscar-worthy and that makes two roles this year for which she must be considered (the other being her work in Mamma Mia). The movie is worth seeing just for this portrayal alone. The rest is just a bonus.
As far as the story itself, it's one anyone with an understanding of Catholicism, especially from circa 1964, will immediately relate to. The biggest problem with it is that it takes nearly half the movie, or longer, to get off the ground. The first part is all deep introspective background on everyone involved and, to be honest, it's a bit much.
That said it's still not a total loss. The payoff is worth it as long as you can get to it.
Why I Wanted To See It:
It was getting solid reviews for the strong acting and the script.
Preconceived Notions:
I thought it would be laden with unnecessary religious dogma that would put me to sleep.
During The Movie:
I nearly gave up on it thinking it would never get moving but when it did I was captivated.
Immediate Afterthoughts:
I can't think of a movie with better acting across the board this entire year. Meryl Streep is second to none.