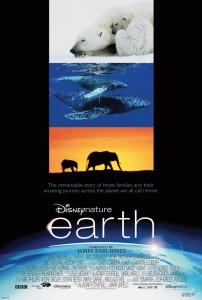 The next film on my list is earth, the first movie in what we're told will be a series from Disneynature. earth is a typical look at our world's habitats and various animals. It's narrated by the ever-wonderful James Earl Jones.
My biggest issue with the movie is its own billing, "earth tells the remarkable story of three animal families and their amazing journey across the planet we all call home." Uh, actually, no. It really doesn't. There's a family of polar bears, elephants and humpback whales. However, we actually don't see very much of them throughout the entire film. We get bits and pieces of them surrounded by an effort that suffers from trying to cover too much material on one film.
There are some amazing moments to be had. A number of time-lapse images are noteworthy both for their splendor and their originality. There are also quite a few "you have to see it to believe it" moments like seeing 3 million caribou moving en masse. The camera struggles to pull back far enough and the result almost feels like a Hollywood CGI effect for the sheer breadth of the herd.
For those old enough to remember them, earth harkens back to some earlier Disney efforts of a generation ago that also tackled the nature realm with their own brand of stylistic humor. No one does that better than Disney and it's brought back to life here.
I couldn't help thinking that this movie would be best served by being seen in an Imax theater allowing one to be completely surrounded by the vistas.
earth is well worth seeing but it won't get anywhere near the stratosphere of March of the Penguins.