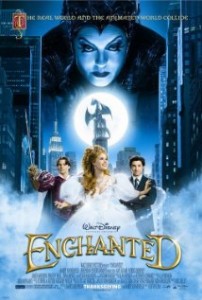 We just got back from seeing Disney's latest movie, Enchanted. It's quite an achievement. It's original, boasts a couple of Oscar-worthy songs and appeals to a wide audience.
The beginning of the movie offers up a fantastic animated sequence that's narrated by the ever-talented Julie Andrews. This early part of the story sets the tone for the rest of the film. The artwork is tremendous and the storyline let's you know that everything here is over-the-top in a good way.
It's funny but based on the previews of this movie, I expected a much different plot from the one we got and that's not a bad thing. It was pleasantly welcome.
There's an amazing song and dance sequence that takes place in the heart of New York that caught me entirely by surprise.
Amy Adams takes the lead role and continues to establish herself as an incredible talent. She can act, dance and sing. We're going to see her quite some time to come.
There are one or two places where the movie is a little on the long side but overall it's a classic Disney story that should continue to be seen in positive light for many years to come.