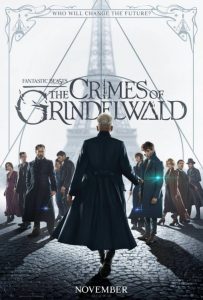 Author J.K. Rowling enjoyed amazing success with her books about boy wizard Harry Potter and the empire that followed. With the book series completed, Rowling continued to explore her Wizarding World by developing the story for a two-part stage play and making her screenwriting debut with 2016's Fantastic Beasts and Where to Find Them. That film and the resultant series center on Newt Scamander, a character mentioned in the Potter books and the "author" of a tome on magical creatures separate from the main book series. Rowling's creative strength comes from her ability to sneak in lots of details along with the main plot and character actions. Sometimes, even the best authors need to be steered in the right direction. Unlike the brisk nature and newness of its predecessor, Fantastic Beasts: The Crimes of Grindelwald contains too many dead spots and occasionally wanders off course like a faulty broom on magical autopilot.
A multitude of plots and subplots comprise this story set in 1927. At its heart, it's a hunt for Grindelwald (Johnny Depp), who escapes from custody in the fabulous, exciting sequence that opens the film. Scamander (Eddie Redmayne) runs into Albus Dumbledore (Jude Law), who tasks him with finding Grindelwald and stopping his plan to take over both the magical and non-magical worlds. Familiar friends Jacob Kowalski (Dan Fogler), Queenie Goldstein (Alison Sudol) and Tina Goldstein (Katherine Waterston) help Scamander at various points in the movie. Part of this journey involves also finding Credence Barebone (Ezra Miller), who is on his own search for the secrets of his past. Scamander's relationships with his brother Theseus (Callum Turner) and childhood friend Leta Lestrange (Zoë Kravitz) affect his actions and further complicate the story that seems to churn like a tornado as it inches forward to the finale.
Redmayne captivates as the nerdy investigator of magical creatures, a character whom he inhabits by speaking quietly and looking down most of the time. Sudol steals every scene with her vivacious personality and strong New York accent that's endearing instead of annoying. Usually more animated, Fogler seems restrained and serious here. Waterston and Miller will likely have more to do in the third film in the series, so they don't get as many memorable moments this time around. Law settles nicely into Dumbledore's suits in this younger version of the powerful wizard sans robes or a long beard. Love him or hate him, Depp knows how to "wear" a character, and Grindelwald continues that series of roles where Depp melts away into one of his creations. Part makeup, part contact lenses and part attitude, Depp's white-haired Grindelwald exudes the menace that frightens other wizards and comes off like a rock star to his followers. Depp's scenes provide some relief after enduring some of the slower sequences.
Potter fans have a lot to discover here. True to the title, Scamander's bowtruckle and niffler join other creatures like the thestrals (winged horses) transporting Grindelwald and an aquatic kelpie in Scamander's menagerie underneath his house. The mischievous niffler remains one of my favorite Potter creatures, and I'm surprised that there isn't an electronic version available. The characters visit multiple Ministries of Magic, and it's neat to see how the countries conduct their business. There are surprise characters and even items, and in some cases, a peek back at characters in this earlier decade foreshadows events in Harry Potter's adventures. Mundane activities like packing up receive Rowling's masterful touch by having a house-elf do it instead of a human.
Nevertheless, the problems with the story and pacing make watching the movie feel more like a chore than enjoyment. With each character on his or her path, there's a lot of time spent on exposition to the point of dragging down the whole proceedings. Flashbacks sneak in more details that could have been conveyed just as easily with dialogue. Familial and romantic relationships as well as friendships receive a lot of attention and setup that sometimes goes nowhere. Although too many action scenes can also wear out an audience, the filmmakers would have a better product if the spirit and excitement of the opening sequence infused the rest of the film. My biggest complaint centers on an elaborate sequence that reaches its climax only to be dashed to the rocks with a discovery that makes those last few minutes completely meaningless. That's just lazy writing and perhaps belies the fact that this movie really exists to set up the third film and an eventual battle between Grindelwald and Dumbledore.
Harry Potter and the Order of the Phoenix provided a lot of details and just a few important moments for the book series. Similarly, Fantastic Beasts: The Crimes of Grindelwald introduces plenty of characters and details that fans would love to explore elsewhere with only the buildup to the surprise revelation in the finale the real purpose of the film. The title doesn't fit well because you don't actually see too many of Grindelwald's crimes; it's more about what his followers do. The Fantastic Beasts series hints at a larger Wizarding World with endless possibilities much like the Star Wars and Star Trek universes. As long as Rowling continues to push the boundaries further and further into new places, I'm on board with the books or movies even if some of them lose a little steam like this one.