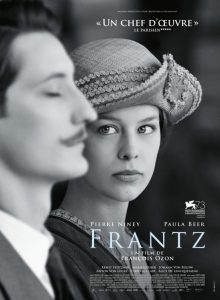 A grieving woman befriends a mysterious visitor to her lost love's grave in Frantz.
This audacious tale of love, loss and recovery is the kind of film that creates a lasting sense of intimate familiarity. Its characters feel like beloved friends and neighbors whom we've known throughout most of our lives. We feel driven to console poor Anna (Paula Beer) as she grieves for the fiancé whom she lost on the battlefields of World War I. When a stranger comes into her life, a Frenchman named Adrien (Pierre Niney) claiming to have been Frantz's friend before the war, we rejoice as her rust-like angst slowly gives way toward acceptance and renewal.
Director François Ozon's haunting use of color in a predominantly black-and-white film creates an instant understanding of the love that once filled Anna's aching heart. Too many filmmakers use black and white simply to set their works apart. Instead, it serves only as an unnecessary distraction. Ozon's approach creates another ghostly character whose presence we subconsciously sense in every shot. It's an example that other filmmakers should understand and embrace.
The only misstep is the casting of Niney to play the suffering Frenchman. His portrayal not only works against the essential chemistry that he should have with Anna, but also strongly hints at a misleading potential subplot. I'm fairly certain that Ozon desired neither outcome.
Forgetting the casting concern, what remains is a stunningly beautiful, multilayered film with a resonating message of inclusion that we so desperately need today.