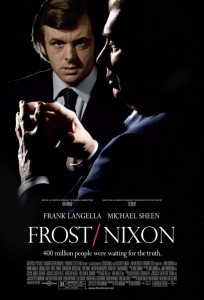 This past weekend found us at the theater to see the premiere of Frost/Nixon. This biopic details the events surrounding the 1977 interview between David Frost and Richard Nixon. Nixon had left the office of the President in disgrace three years before and felt he needed this interview to set the record straight and hopefully catapult from it back into the political landscape.
The previews for the movie were poorly done. They made Frost look like a cartoon character. They also exposed the biggest plot element for no good reason. Because of this I really didn't expect to like this movie. Added to that concern were the reviews. Here's another movie with a plus-90 (92 at the time) rating on Rotten Tomatoes and that always scares me.
First, the movie is beautifully shot. Every scene is paced well and you never feel bored about what pretty much boils down to a discussion. Ron Howard clearly knows what he's doing as we know from many of his past films and this one is no exception.
I lived through this period first-hand and, like most younger citizens, viewed Nixon as the embodiment of all things Presidential. I was shocked when I watched his resignation live on TV. I read a lot about it and covered it in detail in school for years afterward. I thought I knew the story well.
As I've said before, to me a good biopic doesn't just tell us what we already know but tells us the things we don't know and provides us the correct perspectives for the actions of those involved. Frost/Nixon does a very good job of this with one exception. We get it for Frost and many of the surrounding characters. We don't fully get it for Nixon. Richard Nixon was a very smart man and here he comes off a bit bumbling in a way that I don't think represents reality. The movie would have been just a bit better if it managed to get this part a bit more accurately.
That said, it's still an excellent movie. You're taken with it for nearly all of its 2-hour running time and feel far more versed on the topic after seeing it than before. The acting is absolutely first-rate. Frank Langella plays Nixon wonderfully and Michael Sheen presents a great Frost. The rest of the cast is just as polished.
The only other minor complaint I had about the movie was about the closing textual narrative. It suggests blandly that Nixon never did recover and that's a bit of an overstatement. In his last years Nixon managed to win over much of the country with respect to his foreign affairs acumen. His brilliance on that topic came across whenever he was interviewed. Much of his concerns then would be viewed today as prophetic and it's a disservice to not point this out in the film.
Why I Wanted To See It:
I've had an interest in the subject matter for years.
Preconceived Notions:
The preview made it look a bit goofy.
During The Movie:
Complete Interest. Wow, Rebecca Hall is hot!
Immediate Afterthoughts:
What a great movie. It really did succeed at taking a topic about an interview and making it a riveting experience.