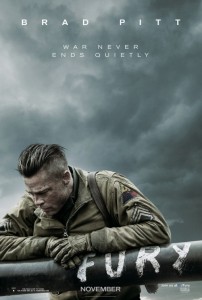 A war-weary tank crew takes on desperate Nazi soldiers in the final months of World War II in Fury.
George C. Scott played the indomitable and eccentric General George S. Patton in the 1970 film Patton and said, "No bastard ever won a war by dying for his country. He won it by making the other poor dumb bastard die for his country." Veteran Sergeant Don "Wardaddy" Collier (Brad Pitt) commands a five-man tank crew driven to follow those words to the last letter. Now worn down and exhausted from one bloody battle after another, frustration grows when they're assigned a new, green recruit named Norman Ellison (Logan Lerman). Collier made a promise to get what's left of his crew back home safely, and this wide-eyed wild card is a risk that they just don't need. Collier's only option is to break Ellison and break him fast.
When battle comes, the crew spends their time in the claustrophobic confines of a Sherman tank they've nicknamed Fury. Its interior is stocked with remnants of their countless conquests, militarily and otherwise. This steel-encased sanctuary is all that stands between them and an instant trip to the afterlife. They also know that, despite its seemingly impregnable armor and daunting firepower, it pales in comparison to the much mightier tanks of their elusive enemy. They'll have to work with the precision of a finely-tuned timepiece if they stand any chance of survival.
Everything about this World War II epic points to a monumental disaster. Director David Ayer's biggest claim to fame is that he wrote Training Day more than a decade ago. The casting includes a litany of surprises. Pitt's lead character is supposed to be deadly serious, but he uses a dialect that instantly reminds everyone of Lt. Aldo Raine in 2009's Inglourious Basterds. Most surprising is the inclusion of Shia LaBeouf as an empathetic crew member named Boyd Swan. Even the filming came with its own unwanted drama. Against the protestations of the local community, the producers infuriated much of England when they opted to shoot a number of explosive scenes during the country's somber Remembrance Day celebration. Include a fairly predictable, (at times) incredibly outrageous plot, and it all adds up to a sure bet for ignominy.
Like its main characters, it somehow beats the odds and delivers a gut-wrenching, heart-pounding, earthshaking winner of a film. Its initial setup is nothing short of brilliant. The opening lines cast the enemy's formidable, foreboding Tiger tanks in the same way that Jaws captivates us with its shark. We know that it's out there, looming just behind the tree line and waiting to claim another victim. The only part missing is the ominous dual-note soundtrack. That's just fine because its own score is perfectly suited to the action.
The acting is simply incredible. LaBeouf turns in the performance of his career by a wide margin, while Pitt makes a strong case for another Oscar nod.
Nearly every scene of the film drenches the audience in an aura of interminable dread. It presents images of unadulterated gore while managing to make it all feel achingly genuine. Tense, touching and sometimes hard to watch, this is an experience with an absolutely appropriate title.