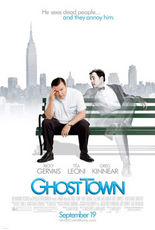 On Saturday the family went to see Ghost Town, the new movie starring English actor Ricky Gervais with Greg Kinnear and Tea Leoni.
Most people under 30 know Gervais as he's often a guest on shows like The Daily Show. His biggest claim-to-fame is that he created the hit TV show, The Office, for English TV and plays the lead role of Michael (Steve Carrell in the US version).
This is being called his formal introduction to American audiences. It could be worse.
The movie isn't anything special or anything bad. It's just a typical romantic comedy with some nice laughs and an okay story. There's nothing in it that will surprise or challenge you. The tagline is about as exciting as it gets, "He sees dead people… and they annoy him."
Everyone involved is pretty decent in it. In fact, the one stand-out is another tie-in to the The Daily Show in the form of Aasif Mandvi who plays Gervais' dental partner. Mandvi has been showing up in bit parts quite often of late and he's pretty talented.