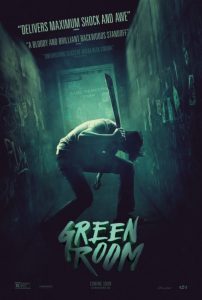 A struggling local band books a last-minute gig that they'll all soon regret in Green Room.
The life of a little-known traveling band is far from idyllic. Bandmates Pat (Anton Yelchin), Sam (Alia Shawkat), Reece (Joe Cole) and Tiger (Callum Turner) spend their time bouncing around the Northwest playing to spaced-out patrons of low-rent hazy venues. In other words, it's a perfect match in quality for their current talent level. If no local couches or floors can be obtained, their beat-up van doubles as emergency lodging. After a long journey to their latest gig, they're told that their spot was given away to a more desirable band. Feeling bad for the slight, the booking agent offers them another option that they hastily accept.
This club is nestled deep in a dark, wooded enclave that's flanked by a convoy of perfectly suitable mud-covered pickups and worn-out motorcycles. It's the kind of establishment where drunk customers openly launch a hailstorm of half-filled beer bottles at performers who don't meet with their immediate approval.
It's nothing that the four upstarts haven't encountered many times before, but something about this group is different. A quick canvassing of the audience shows that the only thing in less supply than sobriety is hair. Nearly every male in the room is bald and undeniably white. The troupe is playing to group of unrepentant neo-Nazis. In their rush to beat a hasty retreat, the band unwittingly finds themselves in absolutely the wrong place at absolutely the wrong time.
This overly-graphic, highly unoriginal horror film is every bit as entertaining as a band that knows only one song — a song with a single mindless refrain shouted to the rafters for a full 90 minutes. Sure, initially it might seem a bit interesting, perhaps even catchy, but after 20 minutes, you're begging for it to stop. Nothing in the film works. The characters are beyond stupid. People this mentally challenged would have washed out of their kindergarten music period. There's just no one to relate to in any way.
The biggest surprise is Patrick Stewart playing the club's ominous owner Darcy. Stewart's career comes full circle with this performance, returning to his roots of playing forgettable characters in B-movies. Yes, his performance is easily the best of the bunch, but it's hardly difficult for a polished apple to stand out in a basket of rotting fruit. This is one song whose lyrics you won't find yourself singing a day or two later.