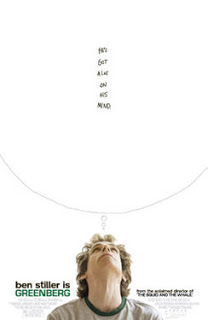 This past weekend I saw the latest Ben Stiller movie; Greenberg. It's a Noah Baumbach film which is a key point as Baumbach-written movies are a love-them/hate-them sort of affair. The story apparently came from wife Jennifer Jason Leigh who also has a role in the film (and who wears the most unattractive glasses I've ever seen on a woman).
I should say right now that I haven't been a fan of his past work. It's usually pretty strange fare. Greenberg gives us a couple hours of insight into the life Roger Greenberg played by Stiller. When his brother's family heads off to Vietnam Roger is asked to keep an eye on their house along with his brother's young and attractive assistant (as all are according to Hollwood) Florence (played brilliantly by Greta Gerwig).
The interaction between Roger and Greta is really the heart of the movie as we barely get to know anyone else in the film with the exception of Roger's old friend Ivan (played by the always wonderful Rhys Ifans). The key is that Roger's clearly got issues and we're told he just got out of the looney bin after a mental breakdown. This, of course, draws Florence to him as a perfect mate as she's got issues of her own and, as we all know, misery loves company.
The reviewers love this kind of movie. It's well acted. It looks real and it focuses on characters with complexities that also come with a sense of honesty. The problem is that most viewers find this sort of movie flat-out boring. It all comes off very much like watching someone else's real-world everyday videos. The reason most of us go to a movie is to escape the doldrums of everyday life. The last thing we're looking for is to spend them watching someone else's realistically portrayed life.
If you like this kind of slice-of-life film then Greenberg will likely delight you to no end. It's nearly flawless in its execution of the genre but everyone else should avoid it entirely.